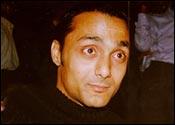 Rahul Bose claims that he does not have a career strategy. And that explains his seven films in a nine-year career.
But the last couple of months have been very favourable for the Bengali actor. Two of his films, Mr & Mrs Iyer and Jhankaar Beats, have fared very well.
His latest film, the late Anant Balani's Mumbai Matinee, did not fare well. But Bose's performance stood out.
Bose seems to have struck gold, as he has been offered as many as 22 films in just two months! He has also landed a part in the much talked about film Chameli opposite Kareena Kapoor.
He shares his cinematic visions with rediff.com:
Do you have a career strategy?
No. I just react to the films that I'm offered. There have been times when I haven't acted in a film for a year. And there have been times when I have shot for six films simultaneously. There's no calculation. If I had [calculated], I would not have messed up so badly.
But your career is really picking up now.
There's an ebb and flow of publicity in every actor's life. After Mr & Mrs Iyer released, there hasn't been a week when there was no press to do. I went abroad for four months just for publicity. Of course, it's great, but also tiring. But I'm not complaining.
| | |
| --- | --- |
| | Exclusive! |
| | |
For Everybody Says I'm Fine, I had to push really hard for publicity because there was no advertising money behind it. There was no money even for a poster. So I'm very grateful to the press for that. Whether they say good things or bad things doesn't matter as long as they are covering the film.

How do you choose your films?

I have been offered 22 films in the last two months. I've rejected 17 and will choose only one of the remaining five.

I choose films according to the role, story, and director. There has to be something original and fresh about it.

I know Jhankaar Beats was formulaic and predictable. But I also knew Sujoy [Ghosh] would bring freshness to it. I liked the role much more than the story.

I reject films if I don't buy the story. Sometimes, even if the story is good, I find the pitch of the film disturbing. It may be too sharp, crass, obvious, and over the top. Let's take an example of a man meeting a woman on the pavement. If you pitch it as an arthouse film, there would be silence throughout the film. If you pitch it higher, the conversation will be like in Chameli. If you pitch it as a commercial film, she will be spitting and hurling abuses.

I think the audience's intelligence should be respected because we are one of the most cinema-literate people in the world.

Does that mean you will never do commercial films?

No, I will never do commercial films. I hate formulaic films, whether they are Hollywood or Bollywood. If you work hard on something, you would want it to mean something. You would want it to take people somewhere they haven't been before. I'm not interested in taking people down the same road.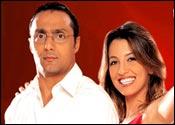 I liked Dil Chahta Hai and Lagaan, but they are formulaic. Of course, they were made very well. There's nothing wrong with being formulaic, but they have to be made well.
The first question I ask directors when they approach me: Why me? I need a convincing answer that the director actually wants me and my performance to take it where no other actor can take it. I'm very choosy about my films.
Tell us about Mumbai Matinee.
Mumbai Matinee is about Debashesh Chatterjee, an ad film executive working for an ad agency. He is intelligent, sensitive, and humorous. But because he is a virgin, he has no confidence. The director says that no matter how successful you are in life, if you are not sexually successful, you will not have confidence. The film is a comedy and Debashesh is like a Woody Allen character. He spends most his life trying to disappear. When he sits or walks, he does it as unintrusively as possible because he is so shattered inside. It's very funny and yet so sad.
One day, when he's in a taxi, there's a pamphlet thrown in saying that Baba Hindustani is a tantrik guru who will cure you of any problem, whether emotional, social, material, financial or sexual. Debashesh knows that 99 per cent of babas are hoaxes. But he is so desperate that he visits him anyway. Vijay Raaz plays the baba, Asrani his assistant, and Saurabh Shukla a B-grade film producer who stays in the same building. The three of them take this man for a royal ride. He is left penniless and in jail. Finally, he finds redemption as he finds love, as opposed to sex.
| | |
| --- | --- |
| | More on rediff.com! |
| | |
What made you accept this role?
I've never played a geek before. This man thinks he's a loser because he has no confidence. It was a great challenge as an actor. I liked the outward comedy and inward pathos. And Anant is a great director. [Note: This interview was conducted before the director's sudden demise.]
I had played a loser in Everybody Says I'm Fine too. But this character is very different. In fact, it is the exact opposite. In ESIF, the guy was a loser inside but tried to portray a better image. In Mumbai Matinee, his inner self is much better than what he portrays it to be.
Tell us about the experience of working with Anant.
Anant does not come from the school of arthouse filmmakers. His films are not art films. But they straddle the gap between art and commercial films quite well. I haven't seen Joggers' Park, but I know Mumbai Matinee does it well.
Anant is intelligent, original, and good with dialogues. His outlook to the world is funny, but dark. We share a great wavelength, darkness and humour. Our humour is always double-edged. It's never frivolous. I can bet his top ten best films would match some of mine. It's a pleasure working with him because he is not pretentious. I've known him since the days of A Mouthful Of Sky, of which I was a part. He had directed a few episodes.
Tell us about Chameli.
Chameli is about an investment banker who is forced to spend a rainy night on the footpath with a prostitute, as the roads are flooded, his car has broken down, and his cell phone isn't working. She works in that area, but did not get any customers that night.
My role in Chameli is wonderful and the story is lovely and original. Yes, there is a song which Kareena sings. Anant knows I would never sing a song unless I play a singer, like in Jhankaar Beats. Within the constraints of a semi-commercial film, Chameli has enough scope to move people.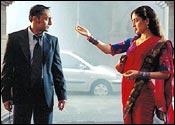 What is the experience like working with Kareena?
Kareena is intelligent, curious, instinctive and confident. She takes directions well from Anant. I'm not the type of actor who discusses the role and relationship on the sets. All my homework is done before the shooting starts. On the sets, the magic has to flow. I haven't spoken to Kareena much because we play strangers in the film. If we had played husband and wife, we would have been talking.
Did you do any homework for this film?
No. I know some investment bankers and the kind of lives they lead. I was almost there myself! But I had to work on the internalisation of the man: the complexity of his character, his psychological trauma. I had to find that within me. Let me explain. Let's suppose my character had robbed a bank and gone to jail. Since I haven't done it, I try to guess what feelings he is most likely to have: repentance, hatred for the system, and humiliation are some. Have I ever felt humiliated or hatred for the system in my life? If I did have such an experience -- let's suppose a government employee humiliated me -- then I expand on that emotion for my character as a convict.
How do you manage your films and rugby together?
Increasingly badly! Earlier, I used to do one film a year, so it was fine. But now I'm shooting for six films. I've played only one tournament for India, seven months ago. Recently, I got a broken nose when I was playing a domestic tournament. I will finish my shooting and then go back to rugby.
If you had to choose between films and rugby, what would it be?
Films, but only by a nose.
Are you working on any script to direct now?
Yes. I'm very fascinated by people who don't realise that the biggest obstacle to their being able to love, share and happiness is themselves. It's never the lack of money, opportunities, or society's approval. If I feel hostile towards someone who hates me, it is because of me. I can convert that hatred into love. Gandhi did. If you can solve those problems, life will be incredible.
My next film is about two people who don't talk, touch, meet, but fall in love. No, not love, they fall in need. They realise that the world they have locked themselves in can be opened. The way I've created the film is very surreal, visual, and unspoken. It's like an acid trip. It's not about being whacky, energetic, and wild. It's like smoke coming out of a cigarette, becoming the chimney of a fairytale house of Hansel and Gretel. But when you enter the meadow, you find yourself inside a dragon's mouth. The film is very poetic.
The theme of ESIF was like this. It's about people's minds and them being trapped by their own problems. You may say that you can see the commonality as a filmmaker between the two films. But if one is World War II, the other is like science fiction!
I'm attracted to extreme subtlety. And I assume my audience is very cinema-literate and emotionally intelligent. ESIF fared better with women than men because women are more emotionally intelligent. A lot of people thought that a woman had made the film and that's the biggest compliment for me. That's the realm in which I'm working in: soft, feminine, strange, and disconnected. Nothing like the cinema you see around us.
Won't your audience be limited?
No. The film will be very simple and emotional. Look at ESIF. The story is very simple, yet very emotional. It's about people who are ****** up because they pretend.
How long do you take to script a film?
I scripted ESIF in 33 days. I have already spent eight days for my latest one. I need about 30 working days on a script. This is a very difficult film to write. The shooting will start a year from now in America.
Will you act in the film?
No. It will have actors from all over the world. I'm looking at two of the finest arthouse actors in America to do the lead roles. I cannot reveal their names. The film will be set in America.
If you had used Bollywood characters, who would your ideal star cast be?
Tabu, Konkona Sen Sharma, Koena Mitra, Rehan Engineer, Boman Irani and Pooja Bhatt. I think they are excellent actors.
What kind of films do you like?
I love Iranian films, Robert Altman's works, The Thin Red Line and Boys Don't Cry. Among Hindi films, I like Guru Dutt's films, Balraj Sahni's films, Dev Benegal's films, Ramesh Sippy's Shakti, Aparna Sen's 36 Chowringhee Lane, Ashutosh Gowariker's Lagaan, and Farhan Akhtar's Dil Chahta Hai.
What films are you working on now?
Besides Chameli, I have Rajeev Irani's The Whisperers. Anant's Ek Din is complete. I will choose one of the 22 films that I was offered. Then I will zoom off to America to start on my directorial venture.
Click here for More Interviews