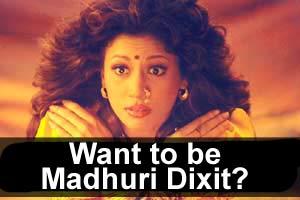 Is it her million dollar smile? Or her dhak-dhak dance numbers? Her acting prowess? Or her irresistable charisma? Whatever the reason, Madhuri Dixit is special.
Antara Mali could not have agreed more. The actress plays a wannabe Madhuri in her new film, Main Madhuri Dixit Banna Chahti Hoon, which releases on October 3.
What about you? Do you nurse a secret desire to be Madhuri Dixit as well? Or is it some other Bollywood icon for you?
Let us know. This space is all yours.