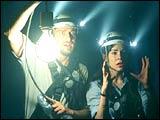 Several of Michael Crichton's books have been made into thrilling films, particularly Jurassic Park, but there have been severe disappointments too like Sphere.
That the briskly staged time-travel adventure Timeline is a letdown is sad because director Richard Donner is good at churning out comedic adventures like the Lethal Weapon series. This just wasn't the right time capsule for him. The film looks lavish at times but for the most part, it is bland.

Besides action, we need well-carved and colourful characters, a certain amount of suspense, a touch of humour (or for that matter tragedy) and a compelling narration to make a cool action film. None of these elements exist in the new film.
| | |
| --- | --- |
| | More on rediff.com! |
| | |
'I wanted to show how phenomenally colourful and romantic that period was,' Crichton muses in the production notes of the film. 'But I also wanted to show how phenomenally violent the times were and how people's lives were at risk every second.'

None of his wishes are adequately realised in the film hampered by an awful script and listless dialogue. Worse, the denizens of the 14th century seem startled interacting with people far removed from them.

The film revolves around young archaeologists recruited for a mysterious time-travel project by a corporation run by Robert Doniger (David Thewlis), with a secret agenda.
Suddenly, a mind-boggling disappearance takes place and the young adventurers and their teachers, including Chris (Paul Walker), Kate (Frances O'Connor) and Andre Marek (Gerald Butler), are moved into 14th century France in the midst of a famous battle between the French and English.
They are looking for their beloved professor Johnston (Billy Connolly) who had been sucked into a wormhole. He must be rescued from the 14th century and brought back to the present times. The rescuers have to race around madly to find the Prof, beat the clock and get back to the present times before the wormhole closes.
If they fail, they will be condemned to live in another era. Also, one of them has to decide whether to give up his newfound medieval lover or stay back.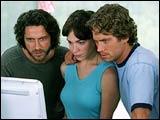 Donner says he did not choose stars for the film because he did not want it to be overwhelmed by star power. The only big name in the film is Paul Walker (Fast And Furious) who is rather weak.
But sadly, there are several luminous artists such as O'Connor (AI) and Thewlis (Naked Lunch) who are wasted. So is the lovely Anna Friel as Lady Claire who has hardly anything substantial to do.
The brilliant British actor Billy Connelly, whose work in such films as Mrs Brown has brought him loyal fans, is another actor who gets a raw deal in the film.

Crichton also served as one of the producers on the film but he was not able to stop his novel from turning into a ridiculous misadventure.

CREDITS:
Cast: Paul Walker, Frances O'Connor, Gerald Butler, Billy Connolly, Anna Friel, Neal McDonough, Ethan Embry and David Thewlis
Director: Richard Donner
Story: Jeff Maguire and George Nolfi from Michael Crichton's Timeline
Running time: 116 minutes
Rating: PG-13 for intense battle sequence and brief language
Released by: Paramount Pictures