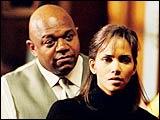 A terrific cast, including Halle Berry, Robert Downey Jr, and Charles S Dutton isn't treated well in the overdone horror film, Gothika.

The film looks promising for the first 20 minutes but once the deterioration begins, it loses its grip, leading to a weak climax.

Given the star cast and well oiled publicity, the movie could attract a sizeable audience. After all, it is not as bad as the recent horror hits, including The Texas Chainsaw Massacre that stashed away a solid $80 million in North America. 

Berry plays criminal psychologist Miranda Grey, who wakes up one day to find herself a patient in the very same mental institution she worked. She has no memory of the murder of her husband (Dutton) she is accused of committing. As she tries to regain her memory and convince her coworkers of her innocence, a spirit starts making life more difficult for her.

Earlier, we are shown Dr Grey as one cool person who knew how to handle her patients, including Chloe (Penelope Cruz), who is convinced the devil is abusing her. Grey is projected as a faithful wife spurning her colleague Pete (Downey Jr), who has a crush on her.

We are also shown her taking a detour on the way home on a stormy night and running into a frightened young girl standing in the middle of a bridge. When Grey gets out of the car to help the stranger, the girl appears to burst into flames.

The movie, directed by hotshot French director Mathieu Kassovitz, whose The Crimson Rivers was a huge hit in Europe several years ago, begins to sink when Grey escapes and begins her own investigation. She discovers many sadistic sexual crimes committed in the farmhouse her late husband was restoring. As she digs further, her life becomes more difficult.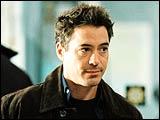 The script has too many issues to deal with, ranging from amnesia to sexual sadism to mysterious happenings. And Kassovitz just cannot do full justice to the film.

While Berry is reasonably competent in her deglamourised avatar, she doesn't bring full conviction to the role as she did in Monster's Ball.
Downey Jr turns in the best performance in the movie.  

Kassovitz and cinematographer Matthew Libatique create an eerie and intriguing world, but when the script starts sagging and the characters behave incoherently, the atmosphere and slick editing just cannot help the film.
Credits
Cast: Halle Berry, Penélope Cruz, Robert Downey Jr., Charles S. Dutton, Bernard Hill
Director: Mathieu Kassovitz
Writer: Sebastian Gutierrez
Running time: 1 hour 35 minutes
Rating: R for violence, brief language and nudity.
Distributor: Warner Bros