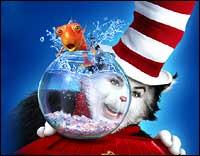 Though it unfolds at breakneck speed and looks lush, with faintly funny performances by Alec Baldwin and Mike Meyers, Dr Seuss' The Cat In The Hat never really soars.
It is too busy for its own good. After a while, one gets tired of fart-burp jokes and crude humour aimed at adults. The film lacks creatively conceived comedy sequences.
But given the popularity of Dr Seuss from whose book the film has been loosely adapted, the movie could open quite big (about $40 million in three days as many experts expect), and go on to become one of the big hits of the year.
I would rather see Elf for the second time and envelop myself with its lively, eccentric and sweet characters. Or I would stay home and watch the DVD version of Finding Nemo.
Published in 1957, The Cat In The Hat has remained one of the top ten best-selling hardcover children's books of all time. The mischievous feline visitor in the striped stovepipe hat (Meyers) makes his big screen debut with this live action production directed by Bo Welch who has graduated from being one of Hollywood's top art directors.
Dr Seuss's slim volume (with about 1,500 words) was about a cat that challenges two bored kids by having fun. In the film, the cat takes the children on a senseless and chaotic adventure, creating mess all around, but miraculously cleans up the mess just as their mom comes home to welcome guests for the party.
The overstretched story has the young mom (Kelly Preston) working for a too fussy, germ-phobic realtor named Mr Humberfloob (Sean Hayes). Her life at home isn't any better thanks to her jerk boyfriend (Alec Baldwin). There is a silent war going on between her son Conrad (Spencer Breslin) and the jerk who wants to send him to military school.

She is hosting a big work party one evening and commands her children, including uptight daughter Sally (Dakota Fanning), to keep the home ultra clean.
A dopey babysitter is expected to keep the discipline at home until their mom returns from work.
Chaos breaks in as the babysitter goes into temporary coma, and the mysterious feline begins spreading confusion. 
Without the inspired lunacy in situations found in the Austin Powers movies, Mike Meyers here is often mirthless and overstays the welcome. His massive white facial prosthetics limit the facial expressions and his voice lacks the kind of energy Robin Williams brought to the movie classic, Aladdin.
Director Welch, who was the production designer for hits like Beetlejuice, Edward Scissorhands, and Men In Black, does a better job with his sets. The film is suffused with vibrant colours and quaint-looking homes.
What The Cat in The Hat really needs is focus, a singular vision, and quirky wit.
CREDITS
Cast: Mike Myers, Spencer Breslin, Dakota Fanning, Alec Baldwin, Sean Hayes and Kelly Preston
Director: Bo Welch  
Writers: Alec Berg, David Mandel, Jeff Schaffer; based on the book by Dr Seuss        
Running time: 1 hour 22 minutes
Rating: PG for mild crude humor and some double-entendres
Distributor: Universal Pictures