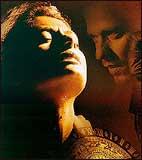 For all those who feel Hindi films are too long, director Anant Balani -- who passed away before his last three films, Joggers' Park, Mumbai Matinee and Ek Din 24 Ghante, released over the last couple of months -- gives us one that looks Hollywoodish. At least by its length. The film is of less than 90 minutes duration.

Inspired by Tom Tykwer's German film Run Lola Run, Ek Din 24 Ghante has as its central character Sameera (Nandita Das), the daughter of a rich businessman who opposes her affair with Viren (Rahul Bose). The rich father is unscrupulous in his business deals and has an affair with his secretary.

Viren is given to gambling and loses huge amounts regularly. One day, he loses Rs 20 lakh at Mr Patel's (Vineet Kumar) casino. Viren is taken captive by Patel and calls Sameera for help. She now has to arrange for the money and deliver it to the Mumbai docks to save her boyfriend's life.


| | |
| --- | --- |
| | More on rediff.com! |
| | |
However, her father refuses to part with the money. When she manages to take the money at gunpoint, he puts the cops (led by theatre personality Piyush Mishra) and a hitman (television actor Kabir) on her trail.
And there's a bandh in the city, forcing her to run the vast distance escaping the cops, the hitman, bandh enforcers and rioters along the way.

The film has been shot and edited stylishly, with a lot of emphasis on giving it an international feel.

Take, for example, the minimum use of words once the thriller element starts. Characters like Viren, Patel and the police inspector have substantial roles but limited dialogues, making their characters more believable. The hitman, in fact, has no line at all.

Similarly, there are no unwanted family angles, comedy tracks or songs to slacken the pace. All this, thanks to the German original, of course.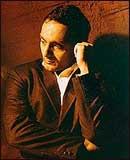 Of the cast, Vineet Kumar and Piyush Mishra pitch in with decent performances. Rahul Bose once again holds his own without much effort or going overboard. With films like Aparna Sen's Mr & Mrs Iyer, Sujoy Ghosh's Jhankaar Beats and Balani's Mumbai Matinee before this, he sure has a good year going.

However, the film belongs to Sameera's character. Given a glamorous and challenging role opposite able actors, Nandita Das rises to the occasion and delivers a believable performance. Whether its her anger at her father's infedility, her impatient run to beat the 24-hour deadline or irritation at having to convince the cops of her desperate situation, she leaves a good impression. 

A week after N Chandra's Kagaar, where she played the wife of an encounter specialist cop in a rather unconvincing and superficial manner, Das can hope to reinforce her claim to being an 'actress' first, rather than a heroine.

The film had a disastrous opening though -- eight people in the balcony of a suburban Mumbai theatre on the first day, first show.
So filmmaker Anant Balani and his cast's efforts may not be noticed, after all.

For all those who love seeing Hollywood-style thrillers made in Hindi, and don't mind the short duration, Ek Din 24 Ghante is worth a watch.

CREDITS
Cast: Nandita Das, Rahul Bose, Piyush Mishra, Vineet Kumar and Kabir.
Director: Anant Balani
Producers: Devang Dholakia, Vivek Suchanti and Vijay Jindal
Music: Sanju Chakravarti
Lyrics: Dr Deepak Sneh