A breezy, spectacular entertainer for a good two hours plus, still faces the problems of an uneven script and bloated, over-directed action scenes.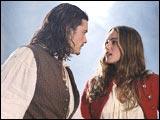 But it should have more than a smooth run at the box office and earn a big booty for Walt Disney.

The film is inspired by a Disney theme park. Though promoted as a movie for the entire family, children below 10 might get scared by its violent scenes. 

The movie could also give the endearingly roguish and funny Johnny Depp the biggest hit of his career, making more money than his 1999 hit Sleepy Hollow, which grossed a handsome $220 million worldwide.

Forty-year-old Depp, one of Hollywood's fiercely independent actors who has never shied from eccentric films such as Fear And Loathing In Las Vegas, clearly enjoys himself in this splashy film.

The film could make him a huge star. It could also consolidate director Gore Verbinski's reputation as a man who knows the public pulse very well. His hits include the whimsical Mouse Hunt led by Nathan Lane, the intriguing Brad Pitt-Julia Roberts thriller The Mexican and the remake of the Japanese horror flick, The Ring.

But he has never made a film on as grand a scale as Pirates Of The Caribbean.

Set in the 17th century, the tale revolves around the charming Captain Jack Sparrow (Johnny Depp), who loves his idyllic life and his rum. Until a wily and ruthless Captain Barbossa (Geoffrey Rush) steals his ship, the Black Pearl.

Jack is left to die on a small, uninhabited island. He escapes to Port Royal, where he is ordered to be executed for being a pirate. But he avoids execution when Elizabeth (Keira Knightley), daughter of the governor (Jonathan Pryce), is kidnapped by Barbossa, who thinks he can use her to remove an ancient curse.

Elizabeth's childhood friend Will Turner (Orlando Bloom), who carries a secret flame for her, joins Jack to commandeer the fastest ship in the British fleet in an attempt to rescue Elizabeth and recapture the Black Pearl. But the evil pirates are not the only people Will and Jack have to worry about. Two men are pursued by Elizabeth's betrothed, the very colourless and stiff Commodore Norrington (Jack Davenport).

The would-be rescuers initially do not realise Barbossa and his crew suffer from a curse that turns them into skeletons in the moonlight. To overcome the curse, Barbossa needs has to have a piece of loot carried by a member of Jack's party and a drop of blood from Elizabeth.

The movie, apart from several engaging performances, including one from Rush, also has a handful of spectacular chase scenes and swordfight sequences. But the romantic triangle doesn't work well.

The confrontation between Jack and Barbossa is the best part of the film. Both actors overact, but they are able to energise the film considerably. Knightley (from Bend It Like Beckham) makes a luminous contribution in her first big budget film (Pirates cost about $120 million).

But everyone's performance is dwarfed by the relentlessly giddy fare Depp dishes out right from his first screen appearance.

While the film is racy and slick, its characters lack the real human touch and depth that could have turned it into a memorable feat. Right now, it is an enjoyable ride. But how many of us would want to go back?
CREDITS
Cast: Johnny Depp, Geoffrey Rush, Orlando Bloom, Keira Knightley, Jack Davenport, Jonathan Pryce
Director: Gore Verbinski
Screenplay: Ted Elliott, Terry Rossio  
Producer: Jerry Bruckheimer
Distributor: Buena Vista Pictures
Click here for more reviews