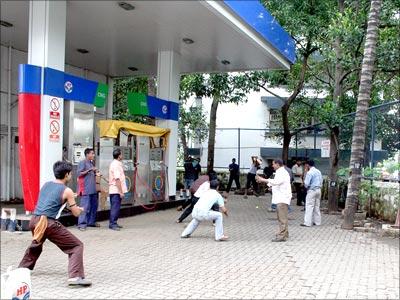 The petrol pump dealers' strike across Maharashtra from midnight on Sunday saw a reduction in vehicular traffic on Mumbai roads. Many motorists, not willing to risk long queues and possible non-availability of fuel, preferred to take the public transport.
Some 2,200 petrol pumps and CNG stations across the state downed their shutters to demand reduction in sales tax on petrol and diesel, among the highest in India, to make it on part with that in neighbouring states.
The dealers refused to budge even when they were brought under the purview of the Essential Services Maintenance Act, which prohibited strikes and empowered the government to use force and reopen the pumps. The strike has now been called off.
For neighbourhood youth, however, the strike came as a blessing: in space-starved Mumbai, even a little room goes a long way in promoting their cricketing instincts. Who knows, one of the local lad could go on to wear India's colours!
Photograph: Rajesh Karkera