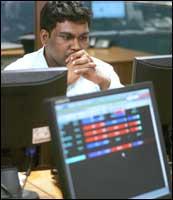 The markets closed with sharp correction taking cues from Dow, Asian and other emerging markets. The Sensex closed at 11,391 down 826 points, which is the highest ever absolute fall for the Sensex. The NSE Nifty closed with a loss of 246 points at 3,389.
According to experts, one of the reasons for such a fall is that the US CPI numbers came on Wednesday and were worse than expectations, which could further initiate a hike in Fed rates.
On the domestic front, triggering of margin calls caused spiraling, which led to across the board selling.
Although the fall has been very steep on Thursday, but the fall in the Indian market in the last one week has been lesser as compared with a fall in the other emerging markets like Brazil, Russia and Mexico.
The BSE midcap index was down 6.4% at 5,891.12 and the BSE Smallcap was down 6.44% at 7,617.20.
The overall market breadth was negative, about 262 shares have advanced, 2216 shares declined, and 29 shares are unchanged.
According to Adrian Mowat, Asian Regional Strategist at JPMorgan believes that underline fundamentals are still strong in emerging markets. He adds that India should correct by 4-5% and that markets will look attractive at 11,000 levels. He also says that all markets will focus on cues from US Fed.
All the Sensex and Nifty stocks closed in the negative terrain. All the BSE indices closed in red.
Markets on Thursday:
Historic day for the markets; biggest ever single-day fall in point terms
Indices fall more than the infamous May 17, 2004 crash in point terms
Markets spooked by volatile commodity prices, uncertainty over tax on FIIs
Triggering of margin calls causes spiraling, across the board selling
Sensex saw biggest ever intra-day fall of 887 points; Nifty of 269 points
Sensex ends down 826 points at 11,391; Nifty down 246 points at 3389, both down almost 7%
All Sensex, Nifty stocks close in the red; metal stocks worst hit
BSE Metals index down over 11% to 9199 points; slides almost 1200 points
Lower than expected results from Tata Steel adds to negativity; stock crashes almost 11%
BSE Auto, Capital Goods, & Oil & Gas indices shed around 7% each
All major BSE sector indices close down at least 5% or more
Market breadth sharply negative; only 27 Advances on NSE against 891 Declines
Total market turnover higher at Rs 57,523.49 cr vs Rs 44,342.48 on Wednesday
The NSE cash turnover was Rs 10565.45 crore. The NSE F&O turnover stood at Rs 44907.2 crore. The BSE cash turnover stood at Rs 4844.82 crore.
The metal index was down 11.4% at 9,199.51. The major losers were Sterlite Ind, Guj NRE Coke, JindalStainless, Hindalco, NALCO, and SAIL.
The consumer durables index was down 8.2% at 3,267.52. Stocks including Whirlpool, Titan Industries, Blue Star and Su-Raj Diamonds closed lower.
The auto index was down 7.24% at 5,282.71. Among the major losers were stocks like Hind Motors, Escorts, Ashok Leyland, Maruti Udyog, Tata Motors, Cummins and M&M.
The capital goods index was down 7.2% at 8,135.30. Stocks like Greaves Cotton, HEG, Siemens, Crompton Greave, Carborundum, BHEL and Aban LoydChiles were among the top losers.
The BSE oil & gas index was down 7% at 5,557.86. The major losers were MRPL, Petronet LNG, Reliance, ONGC and GAIL.
The FMCG index was down 6.4% at 2,125.74. Stocks including Shaw Wallace, Dabur India, Colgate, Tata Tea and ITC were among the major losers.
The bankex was down 6.17% at 5,243.06. Stocks including Canara Bank, Bank of India, SBI, IOB, Kotak Mahindra and Bank of Baroda closed in deep red.
The health care index was down 6% at 3,702.98 and the BSE IT index was down 5.3% at 3,860.73.
Experts say that any fall in the market will make valuations cheaper and investment buying will take place.
ALSO SEE:
Do you want to discuss stock tips? Do you know a hot one? Join the Stock Market Investments Discussion Group
For more on trading & markets, log on to www.moneycontrol.com.ALSO SEE: