India has come to terms with the reality of globalisation, Prime Minister Dr Manmohan Singh said on Saturday.
Delivering the opening keynote address at the Asia Society's 16th Asian Corporate Conference in Mumbai, the prime minister said, "There is merit in moving towards fuller capital account convertibility within a transparent framework."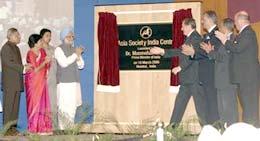 "There was a time when finance ministers were pilloried for cutting tariffs, today they are praised for doing so," he pointed out.
"We have concerns about nascent protectionism, particularly in agriculture," he added. "We have concerns about the priorities of the World Trade Organisation and the uneven pursuit of the Doha Round agenda. We have concerns about the lack of transparency in the policies of some countries. Yet, we are now ready to face global competition on a level playing field."
His address -- which was undoubtedly the highlight of the inaugural session of the conference attended by the who's who from the world of Indian business and nearly 200 Chinese delegates -- was divided into four parts.
In the first, he lauded the people-to-people ties between India and the United States, in the second he outlined Asia's growth, in the third he described India's ascent, and in the last he expressed hope that Mumbai, "from being a Gateway to India," would become a "Gateway to Asia and the world at large."
Dressed in his usual blue turban and white kurta pyjama and speaking in his usual unhurried, clear style, the prime minister said that cooperation between Asian countries was as important as cooperation between them and America.
He stressed on regional economic cooperation, and said that a pan-Asian Free Trade Agreement could be the future of the continent.
"The reality of Asia's significance in the global economy today cannot be brushed aside," he said. He said Mumbai, with its commercial acumen and human capital, could become the commercial capital of India.
And when he said "I salute Mumbai's spirit," the nearly 1,000 people in the audience broke into spontaneous applause.
Photograph: Richard C Holbrooke, chairman of the Asia Society (right), greets Dr Manmohan Singh after the prime minister inaugurated the Asia Society's first centre in India in Mumbai on Saturday, March 18.