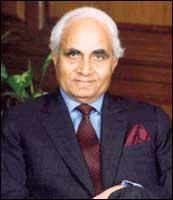 Jack Welch wasn't the first tough character that Kushal Pal Singh ran into. Upset at the rigors of the Indian Military Academy, an 18-year-old Singh plotted his escape to London, where he'd previously dabbled in aeronautical studies before returning home to an army commission.
His plan leaked and he was summoned. The colonel in charge, rather than reprimand him, said he was willing to let Singh leave. "But remember that once you go, you will be forever known as the coward who ran away," he added shrewdly. "If you don't mind that label--go, by all means. Otherwise, reconsider it." Singh stuck it out.
"If the colonel hadn't played his cards so well, I would be repairing airplanes in some corner of England!" smiles Singh, now 74, recalling the first of many "accidents" that have shaped a remarkable fortune on the subcontinent.
Today he presides over closely held DLF Group, India's largest real estate developer with an estimated land bank of 3,000 acres in prime city locations. Singh, who owns 99.5% of parent DLF Universal with his family, is worth, by our reckoning, at least $5 billion.
His showpiece: a busy, 10-mile-wide township called DLF City in Gurgaon, situated south of Delhi, in the neighboring state of Haryana. Some just refer to it as the "new city" or Delhi's tech city.
It is a sight to behold. A barren expanse of farmland has been transformed into a sprawl of office and residential towers, interspersed with bright, busy malls, monuments to the country's newfound consumerism.
DLF City boasts restaurants, hospitals, schools, hotels and an 18-hole Arnold Palmer signature golf course, which is Singh's big passion. Gurgaon is no longer the back of beyond but a suburb much sought after by those who cannot afford Delhi's prices or would rather live closer to where they work.
Among the first to settle in a decade ago was General Electric, as the industrial giant opened up India for outsourcing.
By laying a modern foundation in a country whose physical plants usually lag its intellectual assets, Singh put Gurgaon on the map as a destination for global companies. They have flocked there to situate their Indian headquarters or back offices. If Bangalore is India's software services capital, Gurgaon is the call center hub.
The state contributed 10% to the country's $17.7 billion in annual export revenues from software services and back-office work last year.
Other developers have rushed to cash in on Gurgaon's boom, but none match DLF in size or the goodwill it enjoys as the first-comer.
"It is one of the strongest real estate brands in the country. Gurgaon is DLF and vice versa," says Akshaya Kumar, chief executive of property consultants Colliers International (India). DLF has completed projects covering 35 million square feet mainly along the Delhi-Gurgaon belt. Now, with his son, Rajiv, at the day-to-day helm of the company, Singh aims for DLF to go national.
It's getting there: DLF has 100 million square feet under development in residential, commercial and retail projects all over the country.
Last year it made a splashy debut in Mumbai when it paid $160 million in a public auction for 17 acres, site of a former state-owned textile mill that is in the heart of the city. DLF's newly forged partnership with U.K. construction giant Laing O'Rourke will develop this into a mall-cum-entertainment complex that Singh claims will be "futuristic."
The timing couldn't be better. India's red-hot real estate market is appreciating 20% annually, fueled mainly by the outsourcing boom and a resurgence in manufacturing, says Colliers' Kumar. As technology firms expand, they require both office space and homes for their engineers.
The federal government has opened real estate to foreigners for projects exceeding 25 acres. There's plenty of untapped financing potential. India's mortgage-to-GDP ratio is a mere 3%, compared with 50% in the U.S. and 20% in Southeast Asia. Merrill Lynch estimates that the real estate sector, $12 billion currently, could grow to $50 billion by 2010.
Yet Singh's ambition faces obstacles internal and external. Reflecting Indian tradition, his generation within DFL's operations remains tied to its Delhi origins, requiring an infusion of younger thinking with a national orientation.
And the real estate market takeoff can obscure what is still a thicket of arcane regulations on development. The Urban Land Ceiling & Regulation Act of 1976, with its complex rules governing ownership and development of property, remains in force in some states (in Maharashtra it prevents billionaire Adi Godrej from fully developing his family estate), although it was repealed federally in 1999. Land acquisition still isn't for the impatient or fainthearted.
That would partly explain why foreign companies are not rushing to enter on their own but rather are looking for Indian partners who know their way around.
Singh is master of this game. The army left him with a military bearing that, together with an impeccable dress sense, sets him off from the developer crowd. He has connections and will use them. Pursuing his plan for Gurgaon entailed navigating infamous bureaucracies and braving political fire.
Pramod Bhasin, president and chief executive of leading outsourcing firm Genpact, calls DLF Corporate Park, the first office tower Singh built in Gurgaon, "the birthplace of India's business-process outsourcing industry." Bhasin used to head GE Capital International Services, the outsourcing pioneer. (GE sold 60% of the firm to private equity investors in 2004, after which it was renamed Genpact.)
As Bhasin tells it, GE was brave to open its pilot back office at DLF Corporate Park in 1997. Transport wasn't available and there were no restaurants in the area. GE had to bus employees to work and provide catering services.
Despite these odds, Bhasin never regretted moving. "We got the kind of space, both in size and quality, that just wasn't available in the center of Delhi. DLF really understands what companies like ours need. They are quick, and they deliver on their word," says Bhasin.
Once GE took the plunge, DLF landed other big-name corporate tenants, including Nestlé, PepsiCo, British Airways, American Express, IBM and Ericsson.
At a time when the industry practice was to sell and not lease, DLF offered long-term leases, which suited companies that didn't want to load assets on their books. DLF benefited from the steady rentals during a market downturn when property sales stagnated. Singh's refusal to cut quality corners ensured that DLF could get premium prices for its properties.
Leading Mumbai architect Hafeez Contractor, who has designed several signature buildings for the group, including DLF Center, the corporate headquarters in downtown Delhi, maintains that "DLF always aims for the very best from day one."
Singh's introduction to GE's legendary CEO Welch came in 1989, when the company was still scoping out India. Singh set up a meeting with then prime minister Rajiv Gandhi. Welch's book Jack: Straight from the Gut recalls that Singh also led him to Azim Premji as GE was looking for a partner for its medical systems business. Today Premji, by virtue of his building software power Wipro, is one of Asia's richest men.
In an interview Welch recalls, "K.P. was the igniter of the flame for GE coming to India. He was the perfect ambassador because he opened our eyes to a great country, and we fell in love with it."
Welch says he offered Singh no management tips in return. But Singh says that observing Welch's toughness with GE's managers in close quarters provided a model for running DLF: Think big and be a sector leader.
These goals were a far sight off when K.P. Singh, seven years after an arranged marriage, left a prestigious army posting in the Deccan Horse cavalry regiment to join his father-in-law's land business in 1961.
Chaudhary Raghvendra Singh was a civil servant with a keen nose for business. Upon independence from Britain the country was to be divided to create Pakistan, a Muslim nation. Chaudhary Raghvendra figured this would lead to mass migration, which would, in turn, create a need for mass housing. His prescience made him launch Delhi Land & Finance in 1946, a year ahead of Indian independence.
Although he lacked capital, Singh went on a land-buying binge. Tapping into old family connections, he convinced farmers to sell their land to him on credit. They would be paid the principal plus interest once the land had been carved into plots and sold.
This formula worked so well that he eventually developed 21 residential and commercial "colonies" all over Delhi, including South Extension, Hauz Khas and Greater Kailash, which today are prized properties. The good times ended in 1957, when land development in Delhi was nationalized. DLF's future was bleak.
The patriarch scrambled to enter the car battery and electrical motors field, assigning K.P. Singh to make it work. Young Singh found a mentor in George Hoddy, founder of Universal Electric in Michigan, a joint-venture partner.
Hoddy, who turned 100 last year, recalls, "K.P. wasn't afraid to work hard. He followed directions very carefully and mastered manufacturing." But the diversification strategy came a cropper in the Indian market.
Regrouping again, Singh and his father-in-law recommitted themselves to real estate, vowing to break the state's stranglehold by all lawful means.
Over 15 years Singh assembled the Gurgaon holdings, starting with 40 acres that his father-in-law still held. The surrounding families had an average landholding of 4 to 5 acres, with half a dozen relatives sharing the title. To win their trust, he attended weddings, mediated family disputes, helped out during illnesses.
"I became part of each family, almost like an elder brother," he recalls. Singh lobbied hard to get the farmland reclassified as "nonagricultural" and managed to obtain licenses for developing it. When they were later canceled as political winds shifted, DLF faced lawsuits from buyers.
In 1981 Singh caught one of those lucky breaks in his life. As he tells it, he had a chance encounter with Rajiv Gandhi (whose mother, Indira, was still prime minister) when Gandhi's car overheated and he stopped for water at a village well in Gurgaon. Singh happened to be sitting nearby.
Young Gandhi leaned on the troublesome local authorities for years, into his own term as premier, and DLF was able to get its foothold.
Singh's leap of faith in Gurgaon paid off in spades. The average cost of the 3,000 acres that DLF initially amassed in Gurgaon was $2,000 an acre--a tiny fraction of today's market value.
"Gurgaon was deserted when K.P. first took me there to see it 25 years ago. But he had the gumption to go relentlessly after it," says Deepak Parekh, chairman of home mortgage company HDFC, which started lending to DLF early in its expansion drive.
DLF now enjoys good enough credit for loans to be approved informally over the phone.
Along the way Singh insisted his buyers also be on the up-and-up. Real estate in India is full of off-the-books transactions, the better for tax dodges and to avoid once-prohibitive mortgage terms. Also, builders flout codes and often see their handiwork ripped down.
Singh insists that DLF's dealings remain aboveboard. "This business is surrounded by cash transactions. But we are transparent and take only check payments. If we accepted cash, our sales would double," he maintains.
The legitimacy of his success notwithstanding, Singh avoids the spotlight. He agreed to give FORBES Asia an interview only after months of pursuit. Son, Rajiv, 46, an MIT-trained engineer, and daughter Pia, 35, a Wharton B.S. who also is in the business, running the retailing side, similarly duck public attention.
While father is happy to spend time golfing with their mother, Rajiv and Pia are aiming even higher than he did. Cashing in on India's mall boom, DLF is planning a massive retail rollout: Over the next five years 100 malls will be built in 60 cities, including a 4-million-square-foot Mall of India, the country's biggest, in Gurgaon.
Malls have become cool places for families to hang out at, so on any given day they are teeming with window-shoppers. "Our challenge is to get them to open their purses," says Pia.
The Singhs are willing to pay the top price at any land auction and team up with local developers in cities where DLF is a newcomer. Rajiv estimates that these expansion plans, which include building hotels, middle-income homes and special economic zones, will translate into investments of at least $10 billion.
To finance their ambitions the Singhs are going beyond their bankers, talking to private equity investors and considering a future listing. They've retained McKinsey & Co. to advise on executing strategy and converting DLF to professional management.
"We have never done things in a small way. We will continue to be the influencing player and disrupt existing cozy arrangements," vows Rajiv.
Like father, like son.
Want to invest in Mutual Funds? Get good advice, join the Mutual Funds Discussion Group.