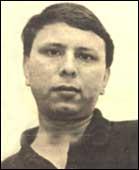 Thomas Abraham may not have the literary credentials of his predecessor, David Davidar, but in just a year of taking over as the chief executive of India's largest general interest book publisher Penguin India, he has proved that publishing books, despite the intellectual aura associated with it, is still a business for the hardnosed.
Under the 40-year-old Abraham, for the first time anywhere in world, Penguin would foray into vernacular publishing. The move even received the blessings of the Penguin Group Worldwide's CEO John Makinson who was here in India last month to officially kick-off the venture.
Penguin said that its priority is to develop the strongest possible publishing base  in the growth markets of India and China. Something impossible without a presence in the vast local language publishing.
Penguin India has started publishing titles in Hindi; Marathi, Malayalam and Tamil would follow soon. Initially, the titles in vernacular languages would include translations of Penguin's English titles, and a limited number of original works.
With a turnover of Rs 48 crore (Rs 480 million) in 2004, and nearly a 1,000 titles printed, Penguin is the largest general interest publisher in the country.
Yet the average print run for bestsellers in fiction could just be around 15,000 copies, while for serious non-fiction the numbers are well below 5,000 copies.
In the fragmented world of Hindi publishing, the number of titles a year can run up to 2,000, but with the lack of a wide distribution system, publishers are confined to selling in a handful of states.
In the Rs 5,000-crore (Rs 50 billion) books market, Hindi titles have the largest share with 28 per cent followed by 22 per cent for English. Starting with 25 titles a year each in Hindi, Marathi and Malayalam, Penguin expects vernacular titles to contribute 15 to 20 per cent of its revenues in the next five years.
"It's a significant step for us. Being in India, it felt incomplete not to reach out to a vast majority of the consumers," says an excited Abraham.
A market research commissioned by Penguin pointed out that the boom was in smaller towns. "Sectors like FMCGs, consumer durables and automobiles had realised this very early. Unfortunately, the publishing industry is not riding the wave," says Abraham.
Abraham's focus on consumers and the reliance on market research is perhaps a rub-off from his stint as a marketing manager at the FMCG firm Parle, and then with Coca-Cola, when the company bought over the soft drinks brands such as Limca and Thums Up.
Interestingly, his entry into publishing happened by accident, as he was pitchforked into  the Limca Book of Records  team. "I landed there simply because I had an MA literature degree," he said.
From Coca-Cola, he moved to the Oxford University Press where he established himself in the publishing business and later in 2000, he joined Penguin as the general manager in charge of marketing.
Among the forthcoming titles in Penguin's language publishing programme are an anthology of stories in Marathi; Arundhati Roy's new book of essays, and Shobhaa Dé's most recent blockbuster, Spouse: The Truth About Marriage.
The vernacular titles would be about 30 per cent cheaper than their original versions in English.
"It's a myth that Hindi books are all priced between Rs 50 and Rs 100. We are entering the higher end of the market, but I find that our books are priced on par with the higher-end vernacular books. You have slim volumes of poetry in Hindi at Rs 150 and translations going up to Rs 295," says Abraham, an avid jazz and 1960s rock music fan.
Penguin says it is not in a hurry to enter the lucrative market for self-help books in Hindi. Translations of bestsellers in this category like Who Moved My Cheese  can notch up sales of nearly 1,00,000 copies in the Hindi belt in a matter of three months.
"We would like to begin with books that have a clear differentiator. Fiction and narrative non-fiction is our strength," says Abraham. In its second year, Penguin would look at doing self-help titles Such as B K S Iyengar's Yoga.
And when it comes to categories such as personality improvement and business management, Penguin has at its disposal several bestsellers sold under Dorling Kindersley.