With reservations expressed by the Left parties weighing heavily on his mind, Prime Minister Manmohan Singh told the US Congress on Tuesday that India's economic reforms might be appearing slow but they were "durable and irreversible".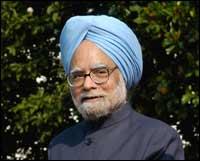 "We have to assuage the doubts and calm the fears that often arise when people face the impact of change. Many of the fears we have to address are exaggerated, but they must be addressed. This is necessary to ensure sustainability.
"India's economic reforms must be seen in this light: they may appear slow, but I assure you they are durable and irreversible," Singh said in his address to a joint session of the US Congress.
He prefaced his remarks by saying that "we are often criticised for being too slow in making changes in policy, but democracy means having to build a consensus in favour of change."
At another point, the prime minister told the Congressmen that "democracy is one part of our national endeavour. Development is the other. Openness will not gain popular support if an open society is not a prosperous society."
This, he said, was especially so in developing countries, where a large number of people have "legitimate material expectations" which must be met. "That is why we must transform India's economy, to raise the standard of living of all our people and in the process eliminate poverty."