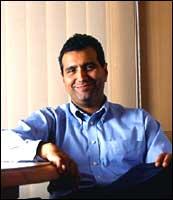 Vivek Paul, 46, grew Wipro over 10 times , emerged as its brand ambassador and the poster boy of Indian IT.
In a candid interview with Businessworld's Shelley Singh, Paul opened up to talk about his times at Wipro and why he quit. Excerpts.
How will you sum up your stint at Wipro?
It was a good chapter in Wipro's book. We set a vision that looked impossible. It makes you feel better because we did it with such confidence.
Less than 1 per cent of India's population is associated with IT and it feels great to know that the whole country is proud of what we did. I built a great team, built some very unique business models, and got customers to come to Wipro -- there is lot of repeat revenue from customers.
DON'T MISS: Why Vivek Paul quit Wipro: The inside story
When did you decide to move on?
I had laid out a vision to be among the top 10 in brand, income, market cap. We got most of this. Now the thing before me was: do I declare a new vision and sign up for it?
I thought I must have a plan for the 21 July AGM. What will I go to them with? Early in May, I told the HR guys that I was getting restless. I was thinking about what to do next.
Eventually, I thought if there is a right time to leave, it is now. I now have a new opportunity at Texas Pacific to look at IT and life sciences companies and I am looking forward to that.
You laid out a vision to be a $4- billion company by 2004?
Wipro didn't get anywhere close.
If you look at the vision to be among the top 10 IT companies by 2004, I think we got there. In terms of brand, market cap, execution skills, we were there. Of the $4 billion, $1.6 billion was to come through acquisitions.
Later, we decided not to go in for acquisitions. It would have been risky. We went back and forth on acquiring companies. I was against big acquisitions as I thought Wipro was not ready for it. I had seen devastation in the US corporate scene.
It was a joint understanding between Premji and me not to go for big acquisitions at that time.
Today, from a financial depth perspective, it is easy for Wipro to go for big acquisitions. From a risk perspective though, it is difficult. Look at the merger between the $1-billion Mitchell Madison and the $1-billion Whittman Hart to form MarchFirst. In three months, $1 billion, or 50 per cent of the revenue, was lost. Transitions can be brutal.
Apart from Spectramind, the other three acquisitions did not add as much to the bottomline?
All acquisitions we made had individual impact. These were like saplings we planted.
NerveWire helped reorient our financial services business. It has been fantastic for Wipro. Even though it was small, it helped us attract people with a consulting profile. Spectramind also paid off very well.
Was there a big acquisition that you were planning?
We had the $1.6-billion inorganic growth plan in mind, but no particular company on the radar. We came close to one big acquisition.
On the day we listed at the New York Stock Exchange, we met the chairman of a consulting firm with the intention to buy. I pulled back for the reasons I stated earlier.
You became the face of Wipro and a brand ambassador for the group. Did you see your role being diluted?
The two things are not linked. Being vice chairman of Wipro, you cannot be deluded about the role you have to play. Being a brand ambassador was not my choice. It started with the backlash against offshoring in the US.
I jumped in to convey the India story. Because I went public, it led to my becoming the spokesperson. There was some resentment to this (among senior management). They started measuring the attention that respective business heads in Wipro got.
About 20 months back, there was a process in place at Wipro to gauge the column-centimetres that one got in media. It was official. We didn't have Premji on that, but myself and the business heads. I had a commanding lead over the unit heads. It was important for me to get the message across on offshoring in the US. I was brave to take the arrows on my chest.
What is your sense of closely held Indian companies?
I can't generalise, though it's true that the Indian industry is still living in the afterglow of the licence-permit raj.
Indian promoters and managers have grown up in a cocooned world. There is no cocoon in the real world. In the US, I can rise and fall at a particular pace. In the US, they will do whatever it takes to get the best person.
Things have changed, business environment has changed. But people have not changed entirely. This has to change. That change is two or three years away for IT companies. Of course, if you are in coal mining, the change could be a decade away.
At this stage, with a turnover of $1.5 billion and 44,000-odd staff, what are the challenges for Wipro?
In the short term, Wipro is in a great position. It has significant service line presence. The tail-wind is with us. If there is trouble in the short-term, we will ride it. And that is part of my contribution to the group. The challenge is two years out. The company needs to retain the same discipline, process focus. The new team has to see to that. You can't solely rely on momentum.
Powered by