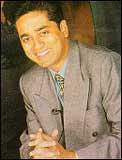 Rajdeep Sardesai, managing editor and second-in-command at New Delhi Television (NDTV) will be putting in his papers on Friday and will officially quit the organisation on Monday after Pakistan President Pervez Musharraf's three-day trip to India concludes.
Speaking to rediff.com in New Delhi, Rajdeep said that he is planning to launch a journalist-driven channel. "We will be launching a new channel that will be driven by the journalists. The emphasis will be on good journalism and journalistic stories. We will announce this in a fortnight. Till then I would not like to discuss any details," he said.
According to market sources, Rajdeep is joining hands with Raghav Bahl, promoter of TV18, and Sameer Manchanda, NDTV CFO, in TV18's general news channel.
Asked why did he quit when things were going so well for him at NDTV, Rajdeep said that he had spent eleven years in the organisation and it was time for him to move on.
"I had a dream of doing something on my own. I have got an opportunity and hence I am utilising it," he said. He denied that he is quitting NDTV due to certain other reasons.
"I have had cordial relations with everyone. There are some people who would admit that I was their mentor, some may not do so. I have been facing withdrawal symptoms for over two months now. Trust me, it is not an easy decision to leave an organisation that you have been associated with for eleven years," he said.
How is NDTV Chairman Prannoy Roy taking your exit? "Please ask Prannoy. How can I say how has he taken my decision to quit?" he asked.
He clarified that at the moment he is not on a hiring spree, but he would evolve a team of good journalists.
"When would we hire or what kind of channel is being launched? Well, we will cross the bridge when we come to it. I am putting in my papers later in the day on Friday but I would stay on till Monday to cover Musharraf's visit," he said.