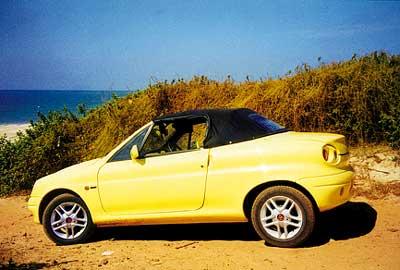 The Thakkar-promoted San Motors has found export markets in Malta (south of Italy), Cyprus, Bahamas and the UK for its sole offering, Storm, after its deal with UB Breweries fizzled out.
Placed as the cheapest convertible available in the foreign markets at £9,000, the Storm has been able to provide a niche market to women in these countries, who want the air in their hair and sun in their eyes, but do not want to drive a high powered Mercedes Benz or Honda, which are the available options at prices higher than £16,000.
K T Jose, chief executive officer, said, "The foreign markets have been using convertibles for long now - they understand the fun of the vehicle with its utility. However in domestic market, sports coupe or convertible at affordable price is not something that people like."
"Here either people want very cheap five-seater vehicles or very classy sports vehicles, which no one else can afford. Unfortunately, Storm does not come under any quality. It is not a niche vehicle as it is priced around Rs 5.39 lakh and at the same time does not satisfy the needs like Hyundai Accent or Honda City, in which category it competes with according to price,'' he said.
"However this very aspect has become the best selling point in overseas market, where people want sports car at cheaper price for daily use. With 60 bhp, fuel injected petrol engine with a displacement of 1149 cc, the vehicle is most fuel efficient in its category with 15-16 kilometer per litre in city,'' he added.
San Motors is working out direct tie-ups with the dealers in these markets, and is also working on developing the left hand drive cars so that they can approach the whole of Europe, where the vehicle has already passed the road safety test.
Along with export market, San Motors will also target the metro domestic market this year.
Campaigning will be carried on in Mumbai, Delhi, Pune and Punjab to showcase the vehicles.
"Last year we sold 160 vehicles and targeting 200 this year. But the capacity at Goa workshop is six cars a day in two shifts. Thus, maximum we can produce between 300-350 cars per year. We are hoping that domestic demands will increase during coming Diwali and Dussera month. So if both the domestic and overseas demand materialise, then we will have to gear up more production,'' Jose said.
-- Business Standard