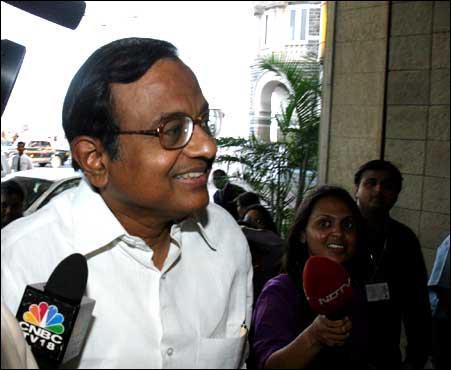 Mumbai, the financial capital of the country, has a high profile visitor: Finance Minister P Chidambaram is on his first trip to the city after taking charge in the new United Progressive Alliance government.
On the first day of his two-day trip, Chidambaram met with a range of economic players: brokers, Securities and Exchange Board of India authorities and bankers.
The visit was as much to calm the jittery stock market as it was an exercise in pre-budget consultations.
"I think the finance minister was in a listening mode and he wanted to assure us that he is committed to the health and stability of the capital markets," said Motilal Oswal, Chairman and Managing Director, Motilal Oswal Securities, who was among the few broking houses called to meet with Chidambaram.
Some of the suggestions that the brokers presented to the finance minister were:
Creation of a market stabilisation fund to contain volatility in the market.

Long-term capital gains tax exemption.

Encouragement for greater FII (foreign institutional investors) activity in the market; and

Continuation of the reform process.
On Thursday, he met with foreign institutional investors, and Reserve Bank authorities. Following a meeting with Union Finance Minister P Chidambaram, FIIs expressed confidence in the economic reforms process of the Congress-led UPA government and are expected to increase their investments in India.
"Our interaction with the finance minister has allayed fears and FIIs are comfortable with the policies and reforms process of the new government," DSP Merrill Lynch chairman Hemendra Kothari said.
"The interaction with the finance minister was good and we are confident about the UPA's reforms plans," said Nimesh Kampani, Chairman, JM Morgan Stanley.
J P Morgan Chase managing director Dominic Price said: "The interaction was positive and encouraging and we hope the investment climate will improve substantially."
"The whole interaction was very positive and the FM showed concern for the stock markets. He listened very carefully to what we had to say," said Ambareesh Baliga, Vice-President, Karvy Stockbroking, who was present in the meeting.
Late on Wednesday, Chidambaram spelled out his government's objectives by saying that it would "place India on a growth path of 7-8 per cent. All this will be done subject to fiscal prudence and financial discipline," he said.
The markets reacted fairly positive to the finance minister's statements and are trading in the positive zone.
Photo: Jewella C Miranda  |  Text: Priya Ganapati & Syed Firdaus Ashraf