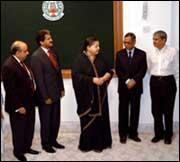 Infosys Technologies is setting up India's largest software development centre to house 25,000 software professionals at an estimated investment of Rs 1,250 crore (Rs 12.50 billion) in Chennai.
The foundation stone for the centre, also claimed to be the world's largest, was laid by Tamil Nadu Chief Minister J Jayalalithaa on Thursday.
The software campus, to be spread over 129 acres and constructed at Mahindra City in Chennai, is almost ten times larger than the company's current 13-acre campus in Sholinganallur, in Chennai, which houses around 2,800 employees.
In the first phase for the new campus, Infosys plans to invest Rs 250 crore (Rs 2.50 billion) and build a facility that will have a capacity for 5,000 people and a built-up area of nearly 1 million sq ft.
"It gives me great pleasure to see this centre take shape. This new campus is a testimony to the dedication and high quality work produced by our Chennai team. I am positive that in the new campus they will find facilities that match the best in the world. Infosys is committed to building this new Chennai centre into a truly world class facility," said N R Narayana Murthy, Chairman and Chief Mentor, Infosys.
Infosys's Chennai operations began in 1995 and the company has invested Rs 100 crore (Rs 1 billion) in the current campus at Sholinganallur, with a built-up area of 450,000 sq ft. Exports from the Chennai centre, stood at Rs 742 crore (Rs 7.42 billion) for the twelve months ending December 31, 2003.
When completed, the 3.5 million sq ft facility will require 22.5 MW of power and 1.5 million litres of water to keep it running.
The Mahindra City is designed on the 'several parks within a park' concept. IT is located on the National Highway 45 and is about 30-minutes from Chennai International Airport.