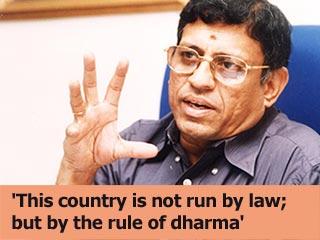 When the Goenkas had a dispute, one man's intervention resolved the matter to everyone's satisfaction.
Sometime later, when there was a problem at engineering major Larsen and Toubro, the very same man helped solve it.
A  few months thereafter, when brothers Rahul and Shishir Bajaj decided to part, this unlikely troubleshooter (did we tell you he is a chartered accountant?) mediated and ensured the rupture was not permanent.
Last week, Swaminathan Gurumurthy ended another corporate stalemate when he persuaded non-resident Indian investor C Sivasankaran to divest his 33 percent holding in the Tuticorin-based Tamil Nadu Mercantile Bank for Rs 130 crore (Rs 1.3 billion). The deal meant the bank's ownership finally returned to Tamil Nadu's Nadar community. And guess where Gurumurthy brought the long-festering issue to an amicable conclusion? At Deputy Prime Minister L K Advani's home!
That should give you an idea of his clout. After all, how many people in this country has that kind of access to the second most powerful man in this country?
Contributing Special Correspondent Shobha Warrier met Gurumurthy, who is also convener of the Swadeshi Jagran Manch, at his office on Chennai's Nungambakkam High Road (where several settlements have taken place) to find out why bitter business adversaries listen to him and agree to do what he says. 
Once again, you have mediated and solved a business dispute. How did you get involved in the problem concerning the Tamil Nadu Mercantile Bank?
I have always been advocating that communities are social capital. But politicians and English educated intellectuals had
been abusing caste as an evil of society.
Caste in politics is evil, but caste in economics is not.
I have always felt that the Nadar community could set an example to other communities. Their bank is one of the finest banks in the world. Imagine from a Rs 28 lakh capital, they make a profit of Rs 80 crores and their reserves are over Rs 400 crores. And, it is built by the community alone.
There was some problem and somebody sold it off. The community was struggling to get the bank back. I felt I must help. That is how I got involved in it.
Did they call you?
They called me.
When the final settlement was done, Mr Advani was present. How did he get involved?
I met the community at L K Advani's place. He was not in power then. I happened to be there at that time. Advaniji told me to help. (Journalist) Cho Ramaswamy also was involved. We brought about a settlement in 1999, but it did not work. There were problems within the community; it is bound to be there as it is a very large community.
Out of the 67%, 34% were transferred back to the community. The balance 33% was with Sivasankaran. The Reserve Bank
refused to permit an NRI having the share even though the community had agreed.
Then, I persuaded Sivasankaran to think of selling the balance also to the community. Seven people joined together to buy the balance shares. That was how it was solved.
I felt as the whole thing started in Advaniji's presence, it should also be settled in his presence. That was why the final settlement was done in his presence.
You were also instrumental in solving the dispute in the Bajaj family. What is the secret of your negotiating power? How is it that you are acceptable to warring factions?
You require more than one quality to bring about peace. You must be a good professional. You must be fair. People with a knowledge of law, finance, etc work for money, I don't. In none of these transactions have I accepted any money.
Why do you not accept money?
Because I don't need it. Whatever I am getting is sufficient for me.
What is the motivation for you to spend so much time on these cases?
I feel there is a larger national interest involved in all this. Bajaj is a very important company in India. Any problem in the
company affects the nation. Similarly, L&T was a much bigger affair. Again, national interest was involved.
I am accepted as one of the well known professionals with competence and skills. I don't pull these skills only to make money, and that's my difference. It's not that I don't need money at all. But whatever money I need, I am getting without having resort to putting together deals and all that.
Because these are well-known transactions, you come to know about it but I have solved many disputes privately too. What is needed is, you should not get involved professionally. If you get involved professionally, none of them will listen to you. Then, you are seen as working for money. That's the Indian psyche.
How do you convince the two factions who don't see eye to eye to relent? In the end, you make both parties give in too.
I speak to them in very harsh terms. I tell these people how and where they are wrong, and that they should not look at
things in a selfish way. Once you acquire moral authority, and when both parties trust you, you can speak the unpleasant truth. Then, they will listen to you. In everybody, somewhere, there's this goodness. That's how they accept the terms.
It is not just moral authority, I also know law, I know finance, I know what is good and what is bad from the point of view of a
businessman. So, I explain to them, 'this is what is good for you, this is what is bad for you. If you fight, these are the
consequences. This is how your balance sheet can go down.' And, they understand.
See, many professionals are not willing to tell these big businessmen that they are wrong.
Do you meet the two sides separately all the time, or do you bring them together?
Generally, I make them meet, and talk. In the L&T deal, I told them, 'I am not going to do anything. You have to agree.' In
this very office, many arbitrations have taken place. Here, they meet, sit and talk. Finally, my involvement is not needed; they themselves agree.
But, without your intervention, they would not have met at all....
I will not make any such claims. For example, you go to Dharmastala. The Hegde of the temple settles a few hundred disputes every month! He settled the dispute in the Pai family which the Supreme Court could not. So, there are hundreds and thousands of people in India who do these things. Because my name is known, people know about these cases.
That's why I feel in this society, there is a very large moral authority prevailing. That is why for 750,000 villages, we have only
12,400 police stations. This country is not run by law; but by the rule of dharma.
There are hundreds of good people in society. You get to know about these disputes because I am famous and the people
come to me are famous. What I am doing is not anything great.
Do you have to resort to emotional blackmail to solve disputes?
Why should i? Unless I gain something, why should I indulge in emotional blackmail? When a dispute comes to me, I don't
intend that I must somehow resolve it. I only try my best.
You spend a lot of time and energy to solve these disputes. You don't accept money. What kind of satisfaction do you get by solving these problems?
My feeling is like any person who has done something good. The kind of satisfaction he gets, I also get.
Regarding my time and energy, I devote only less than a week's time for my profession. That's sufficient for me.
How did you first get involved as a mediator? Was it only because of your professional qualifications that you got involved?
The first was the Indian Express case. I was supposed to be supporting Manoj [Sonthalia, who now heads the New Indian Express group in the South] but I never got involved. I advised Manoj that what was being done to him was wrong. Then, Nusli [Wadia, chairman, Bombay Dyeing and then actively involved in Express matters] and others got in touch with me and we settled the dispute.
See, but for my professional qualifications, nobody would have come to me. Many people come to me with a view to take up
cases to fight, but I refuse. In fact, if you take the proportion of the cases I have refused and the cases I have accepted, it is
100:1.
For example, Shishir Bajaj came to me asking me to help him fight Rahul Bajaj. I said I would not. I told him, 'you give me a
commitment that ultimately you will go for peace.' Only then, I helped him strategise for peace.
How do you decide whether to fight a case or help the two factions settle the problem amicably?
Only if somebody behaves absolutely unjustly and there is no way except to fight, I go for that. My point has been decided
by Sri Krishna in Mahabharata. He asked the Kauravas as a last resort to give five houses to the Pandavas. Only when
Duryodhana refused that too, he said, there would be a war. That means, you must exhaust all the chances of peaceful
settlement before you go for a war. This is what is called conciliatory procedure.
The Anglo Saxon procedure is adversary. It starts with a battle and may end in peace. The system of judiciary in India is Anglo Saxon.
But I first tell those who approach me, work for peace.
Has your RSS background anything to do with the work that you are doing?
It has certainly a lot to do because it has given me tremendous amount of moral courage. No one can even remotely think of
compromising me with money. This is known throughout the business world.
Is it because of your RSS connection that you get involved in these cases?
The RSS may not even know when I get involved in these cases. They may come to know about it only in the newspapers.
When I interviewed you after you solved the problem concerning the Bajaj family, you said because it was a swadeshi firm of long standing that you got involved.
When you look at the national interest, it is swadeshi.
So, can we say, you solved these disputes as convener of the Swadeshi Jagran Manch?
I don't think you need an identity to think in a particular fashion. A person may have nothing to do with the Swadeshi Jagran
Manch but may have swadeshi ideas. So, it is not because I am the convener of the Swadeshi Jagran Manch that I think this way. Even without that, I may think this way. 
My involvement has nothing to do with the Swadeshi Jagran Manch. The others connected with the Swadeshi Jagran Manch may have read about it only in the newspapers.
Do you help only swadeshi companies solve their problems?
I will tell you one thing. There are many people who have approached me and I have told them I cannot help. I must see that there is a public purpose in the case, not just private. If there is a large community interest, a large national interest and a large economic interest of the country, I get involved.
For example, in the case of L&T, my singular aim was that the cement capacity of L&T should not go to a multinational. I told them explicitly that it was the reason behind my involvement.
If it is purely private, I may accept it as a professional.
If the dispute is between a swadeshi company and a multinational, will you help solve the dispute?
It is a hypothetical question. I don't think an MNC is going to come to me! If both of them come to me, I may still resolve. But as a professional, I will never accept any multinational as my client.
What the world does not understand, particularly the financial media, is that you need not translate every effort of yours into
money, every contact of yours into money, every hour of yours into money.
There are people who can transcend money, and still handle money, people, commerce, business, economic policy. This is unknown to the financial media.
That is why I call financial journalists merely prostitutes. They write 'Gurumurthy, dealmaker number 1, corporate broker.' They use such terms because these journalists are virtually prostitutes.
Does it anger you when they call you dealmaker, broker, etc?
I only pity them. I am not even angry. The editor of the financial paper told me, 'See, Mr Gurumurthy, even if the Shankaracharya brings about an understanding between the Muslims and Hindus on Ayodhya, we will call it, 'he has
brokered the peace deal between Hindus and Muslims.' This is the American way. You see everything as a deal, and
everybody is seen as a broker!
How do you describe what you did: negotiation, mediation?
I will call it mediation, conciliation.
Photograph: Sreeram Selvaraj
Image: Uttam Ghosh
EARLIER BUSINESS INTERVIEWS WITH S GURUMURTHY:
'We have won political freedom, not economic freedom'
'Divestment proceeds are used only for current govt expenses'
'Opening insurance will start the disaster for India. What happened to Russia will happen to us'
'The clash with globalisation is going to produce a national Indian mind'
'Indian discipline was destroyed by the Marxists'
'India has never had swadeshi economy'
'India cannot live in cities'