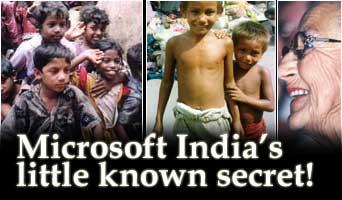 Four years ago, ten-year-old Naresh ran away from his home in Rajampet village in the Cudappah district of Andhra Pradesh to the state capital Hyderabad after his father beat him for no reason.
In Hyderabad, Naresh ended up living as a street boy. But a few days later, Naresh's life changed when Srini Koppolu, Managing Director of Microsoft's India Development Centre in Hyderabad, noticed his sorry state of affairs.
Soon, assurances of financial aid for his studies and counseling by Koppolu's wife Pratima led Naresh back to his village home.
Overnight, Naresh became a beneficiary of Microsoft's little known charity secret in the country -- the India Giving Campaign.
These days, thousands of children like Naresh are educated, orphans are cared for, destitute are looked after and the poor are fed by the software giant's unique Indian Giving Campaign.
Koppolu, who heads Microsoft's second biggest development centre outside the United States in Hyderabad, pilots the Giving Campaign. Koppolu himself hails from Ongole, a small town in Andhra Pradesh and thus knows the realities of India, much better than others.
"We believe in creating a meaningful change to the society it operates in," points out the Campaign's information sheet that Microsoft India supplied to rediff.com.
It says Microsoft's guiding philosophy, globally, is to contribute to the society "we live in and which enriches us everyday." This is a philosophy that the India Development Centre is implementing in the country.
In the last two decades, Microsoft has fostered community engagement and partnerships to find sustainable technology solutions that make real and lasting differences in people's lives.
Globally, Microsoft's charity initiative is known as the Giving Campaign. Last year alone, Microsoft contributed more than $40 million in cash and $224 million in software to nearly 5,000 non-profit organisations.
The India Giving Campaign is an offshoot of Microsoft's Global Giving Campaign from Redmond.
So what is the Indian Giving Campaign all about?
In simple terms, every year, every employee of Microsoft from its India Development Centre donates a part of his or her monthly salary to charitable cause. The Microsoft India office contributes a matching amount to the employees' donation.
How much has the Campaign contributed to charities so far? Rs 7,638,575!
To break it up, Microsoft doled out Rs 1,048,000 in the year 2000, Rs 1,301,064 in 2001, Rs 2,015,204 in 2002 and Rs 3,274,307 in 2003 to 22 charity and voluntary organisations across the country.
This unique India Giving Campaign started in November 2000. Every year, for three weeks, a number of voluntary and non-government organisations are invited to Microsoft's Hyderabad centre for a brainstorming session with the employees.
How has been the response of Microsoft employees to the Indian Giving Campaign?
The response has been phenomenal. The percentage of Microsoft employees who have contributed for the India Giving Campaign is going up every year.
While in 2000, 85 per cent employees participated in charity contributions, it increased to 87 per cent in 2001, 93 per cent in 2002 and 95 per cent in 2003.
"This is one of the most meaningful programmes that we witness during our hectic life here. Interacting with the voluntary groups who work for the destitute and the poor is an eye-opener for most of us, often," says a senior technology officer at the Microsoft office.
During the presentation by the NGOs, employees are free to choose the organisation they want to contribute to. "I decided to contribute to the Child Aid Foundation because it does lots of good work for the poor children," says a software engineer who does not want his name or the amount he contributed to be published.
"The key issue is not how much amount I am contributing. It is the idea of giving something back to the society is what I have liked. I am happy that Microsoft is doing this in India," he says, adding: "It also reflects the social responsibility of a professional organisation like Microsoft."
But how are the NGOs selected by Microsoft for the Campaign?
Microsoft has not laid down any strict rules and regulations on selecting the charity groups. Any organisation, which the software giant feels is doing good work for the people in India are called to make presentation.
These days there are more than two-dozen organisations that have benefited from Microsoft's generosity.
Some of them are:
Naandi Foundation: A non-profit autonomous development organisation meant to design and implement project locally and pave the way for a sustainable development even in remote parts of Andhra Pradesh.
Schoolnet: Involved in improving teaching process as whole at various schools. It operates a trust to evangelize and implement its methodologies for schools, which cannot afford the cost or lack infrastructure.
Institute of Rural Health Studies: Assists rural poor to obtain health care.
Hyderabad Round Table: It sought Microsoft funding for construction of a school in Banjara/Jubilee Hills slum area in Hyderabad.
Divya Disha: Provides shelter for street children and runaways. Provides training to the children and encourages them to return to their homes.
Concern India Foundation: A non-profit charitable trust that works towards enabling the most disadvantageous sections of our society to become self reliant and live with dignity.
Child Aid Foundation: It is in the service of underprivileged children. The foundation is running a poor and needy children's free upper-primary school as well as free hostel for the last fourteen years in Andhra Pradesh.

AID India: AID is well known among Indians in the United States. The Microsoft donation has gone to Sakti, a small NGO located in Hyderabad, which is funded by AID.
Dr A Goswami, director of the Vijayawada-based Child Aid Foundation says Microsoft India has set 'a noble example of social service by reaching out to the poor and needy children.'
"Our organisation is very grateful to the generous donation by Microsoft India and all its employees," Goswami says.
He says the amount donated by Microsoft is helping Child Aid Foundation in two ways. First, with the money from Microsoft, the Foundation has launched three key projects-Ashraya Children's Home, Shri Vijaya Bharati Upper Primary School and Svagriha Girls Division in Vijayawada.
Secondly, Dr Goswami says that by donating to help the children taken care of by the Foundation, Microsoft creates global awareness about the charitable works of voluntary groups in India.
"We look forward to Microsoft's continuing support in the coming years," adds Dr Goswami.
Microsoft's India Development Centre says the Giving Campaign is basically to reach the society and needy at appropriate time. "Our approach is pro-active. We have been benefited by various section of the society. Be it school, guide, mentors, relatives and government schemes. We want to share our good fortunes with these sections who are in need," says the Campaign's information sheet.
The Hyderabad campus of Microsoft presently houses 1,600 employees. With the completion of the second building, for which foundation stone has been laid last month, the employee strength would go up to 3,200.
With the increase in headcount, Microsoft expects the India Giving Campaign to further accelerate and become one of the biggest charity contributors in the country, in the coming years.