In an inspired piece of advertising, the public sector behemoth State Bank of India exhorts its consumers to choose the life insurance option provided on their home loan.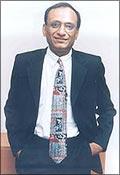 It underlines the growing and welcome trend of home loan providers marketing add-on features rather than competing on just interest rates.
This particular feature (which is marketed by several home loan providers) allows the consumer to buy a cost effective life insurance policy that will pay off the loan in case of the unfortunate death of the consumer.
In fact, the insurance premiums are normally pre-negotiated by the home loan lender with the insurance company to enable its consumers to get preferential rates.
Most consumers (including some fairly savvy ones) don't realise their insurance needs increase moment they sign a home loan.
Normally, the home loan is about three to four times the consumer's annual income. Even if the consumer was adequately insured before the home loan decision, obviously a liability of this order will make the insurance completely inadequate.
A simple example will demonstrate this:
Based on a monthly salary of Rs 25,000 and a monthly expense of Rs 20,000, the consumer has taken an insurance policy for Rs 3,000,000 (Rs 3 million or Rs 30 lakh).
At an interest rate of 8% per annum, the monthly income on Rs 30 lakh is Rs 20,000.
He now buys a home worth Rs 15 lakh (Rs 1.5 million), for which he takes a home loan of Rs 12 lakh (Rs 1.2 million).
If something unfortunate happens to him, the net insurance proceeds of Rs 1,800,000 (Rs 1,200,000 will need to be used to pay off the home loan company) will not be enough to generate the income required to maintain the family's lifestyle.
In fact, if his existing insurance is inadequate (which is true for a majority of young professionals in India today) then the family's plight is even worse. They might actually have to sell off the house to meet the loan liability, which will entail a drastic change in their lifestyle.
All this can be avoided if the insurance needs are re-evaluated at the time of taking a home loan and an appropriate amount of insurance is taken.
For a 30-year-old healthy male, this will hardly cost around Rs 20 per thousand of life insurance per month. A small cost to pay for peace of mind.
Typically, in such cases, two kinds of life insurance policies are taken. They are level term policy and reducing term policy.
As the names suggest, in a level term policy, the amount of insurance remains fixed throughout the tenure of the policy even though the loan outstanding will drop over time (which means any surplus of the life insurance policy over the loan amount will be paid over to the family).
In the case of a reducing term policy, the insurance amount drops in line with the drop in the loan amount outstanding. The premiums for such a policy are marginally cheaper than a level term policy.
You should remember three important things while buying a life insurance policy at the time of taking a loan.
1. The life insurance decision is independent of the loan decision. You need not buy your life insurance only from the company with which your lender has tied up (though, in most cases, it should work out cheaper for you if you do so). Neither does it mean you cannot get life insurance just because your home loan lender has not tied up with an insurance company.
You should explore options in the market (always look at term insurance, which is the most economical mode of buying life insurance) and then take a decision.
2. Look at critical illness riders which will pay out the insurance amount in the event of your contracting any of the specified illnesses (normally ailments like heart ailments requiring bypass surgeries, cancer, organ transplant, strokes, etc, are covered).
This will ensure that if you are unfortunate enough to contract those ailments, then at least you will not have to worry about your home loan repayments. Though it is an expensive rider (it costs as much as the insurance itself) it is strongly recommended as it provides a safety net for your home.
3. Choose the single premium payment option where the entire premium due on the life insurance policy is paid up front. This ensures that the protection is guaranteed for the entire term of the policy.

Most home loan companies would be happy to include this single premium payment as part of the loan as it secures their interest as well.
So while the phrase 'insure and be secure' might sound clichéd, in the context of a home loan it is ignored at one's own peril.
---
Harsh Vardhan Roongta is the co-founder and director of Apnaloan.com, an online neutral marketplace for loans and credit cards. A chartered accountant by profession, he has over 21 years of experience in financial services, consultancy and personal finance matters. He is also the author of The Complete Home Loan Guide. His column tells you how you can be a shrewd and wise borrower.