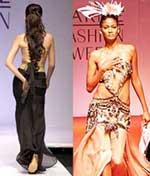 Post the Carol Gracias malfunction episode, where the model was literally left topless, we witnessed yet another wardrobe malfunction today, this time at designer Lascelles Symons show (click for bigger image).
Lascelles is best known for showcasing the corset.
This time, model Gauhar Khan's outfit gave way just at the seat of her long black skirt.
It was seconds before she realised what had happened and quickly covered up by pulling the sides of the skirt together.
Designer Mandira Wirk, whose show followed Lascelles, wrote it off as a hazard of the profession. "There is very little time between fittings during a show and such things happen," she added.
Actress Tania Zaetta (she played Arshad Warsi's wife in Salaam Namaste), who also walked the ramp, said that, abroad, television shows are made using footage like this. "What's the big deal?" she asked.
But here's the debate brewing at the fashion week: does the fault lay with the clothes?
In other words, do such mishaps occur due to oversights or a lack of attention to detail by the designer?
Should such designers be suspended from showcasing their clothes on the ramp for a while?
Or should models take such incidents in their stride?