It's that time of the year again when you gorge on gajar halwa. If you are not making it yourself, it probably heads the menu under 'Season's special'. Or you see people queuing up at weddings to sample this 'must have' dessert!
While some of you can't do without gajar halwa, others cannot resist the evergreen rice kheer.
Get Ahead fitness expert Samreedhi Goel compares the calorie count of these two popular desserts and give tips on how to stop them from adding to your kilo count.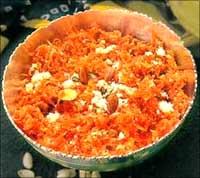 1 medium katori Gajar halwa
400 calories (15 grams fat) = 40 minutes walking at 8 km per hour
The main ingredients of gajar halwa are carrots, milk, sugar and ghee. Some people add mawa (khoa) to this mixture as well. Dry fruits and elaichi (cardamom) powder are sprinkled as garnish.
While carrots are a great source of vitamin A, this dessert, overall, has a high fat content. Omitting the mawa can reduce some amount of this fat.
You can also use low fat skimmed milk, instead of full cream milk.
These changes will not really alter the taste, but will definitely help reduce the calories.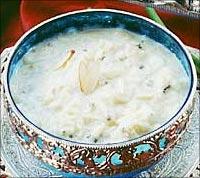 1 medium katori rice kheer
195 calories (5.5 grams fat) = 20 minutes walking at 8 km per hour
 
This is a simple dessert, made with rice, milk, sugar and a little ghee. Here, too, dry fruits can be used as garnish.
This recipe can be completely altered to make it low on fat without changing the taste. You can use skimmed milk and completely omit the fat you use. Replace the sugar with an artificial sweetener that is stable on heating (read instructions at the back of the sweetner's packaging).
However, if you have tried this dessert at a restaurant, you will find that the texture is much creamier than it is when you make it at home. This is simply because cream (malai) is usually added to the kheer while cooking it to lend it a richer flavour. Obviously, this will increase the fat content as well. 
 
How to eat dessert
You are watching your calories but that does not mean you will not feel tempted. Dieting does not mean depriving yourself, so here's how you can enjoy your dessert but avoid gaining weight:
Choose a small plate, so you take only a small portion of the dessert.
Take a small bite/ spoonful and enjoy it by allowing it to linger on your tongue before you swallow it.
Share your dessert with a friend or your spouse; this halves the calories at once.
At a restaurant, eat only half of it and pack the rest of it to take home. Have it the next day or the day after.
The author is a nutritionist and a certified personal trainer. She runs Size Wise, a training studio, and also conducts fitness workshops. Besides training with the International Sports Science Association, USA, she has a PG Diploma in nutrition and food technology and writes for a number of publications. She can be contacted at sizewise@rediffmail.com.
Do you have any interesting recipes for low-cal desserts? Share them with us.
DON'T MISS!