On Jaswant Singh Road (off Ashoka Road) in Delhi, lies a typically sarkari-looking structure known as AP Bhawan. The building is as attractive as, say, Camilla Parker Bowles.

You don't know what's inside, and you probably don't want to find out. But for the average Andhra-ite living in Delhi, it is his raison de etre in the land of Butter Chicken and Khoya Paneer.
 
Here's why. In a nondescript corner of the building lies the AP Bhawan canteen. No flashy 20' x 4' glow sign, no 'We speacialies in Indian, Muglei & Chineej food' board, nothing.
Just great food! Try getting a table for yourself there on a Sunday afternoon; it will give you an idea of how popular this place is.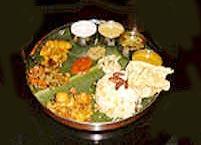 It's 'Andhra' food, not south Indian food
I need to make this very clear for two reasons:
a. People up north (be it Bihar, UP or Punjab) tend to see 'south India' as one big landmass, and the erstwhile Madras as the centre of the south Indian universe. Whichever city you hail from, the next question will inevitably be "Madras se kitna door hai?" (Hello? Baaki saare sheher mar gaye hain kya?).
The same principle applies to food. "Ghar pe kya khaate ho? Idli-dosa?," people ask.
Let me ask you -- can any human being survive on two dishes all his life?
Remember, different states in the south have different cuisines. Even different regions in the same state have different cuisines. Chicken Fry in the Andhra region is dinner. In the Telangana region, it's a burnt tongue.
b. All you Delhi-ites hoping for masala dosa and nariyal chutney, you won't find it here so don't expect it.
 
On the menu
Now, coming to why this place is choc-a-bloc. AP Bhawan serves the meanest 'Andhra Meals' on the planet. And yes, Andhra Pradesh is included in this equation as well.
And for a restaurant with the most limited menu in Delhi, it sure does brisk business. Let's list it down right here:
Andhra Meals: Rs 50 

Chicken Biryani (served only on Sunday): Rs 75

Mutton Fry: Rs 50

Chicken Fry: Rs 50

Chicken Curry: Rs 50

Fish Curry: Rs 50

Andhra Meal, the complete meal
Six days out of seven, Andhra Meals is what everyone orders, with one or two of the last four dishes serving as the 'add-on'. Not that they need to, because the thali more than suffices.

With unlimited rotis, rice, dal, two dry vegetables (mostly fried potato/ beans/ coconut and cabbage/ bottle gourd), sambhar, rasam, chutneys, curd, pickles, gunpowder (a powder concoction made with grounded pulses, spices, etc) and a sweet dish, there's not much more that an individual would need.
Now, more than what's on the menu, it's the order in which you have them that is important.
Here's the Andhra-ite's version of the seven-course meal:
i. Rice with ghee, gunpowder and gongura pacchadi (a pickle made with a leafy vegetable)
ii. Rice with ghee, dal and vegetables
iii. Rice with sambhar
iv. Rice with rasam
v. Rice with curd
vi. The sweet dish (usually payasam but, if you are lucky, they will serve 'double ka meetha,' a Hyderabadi delicacy)
vii. Sweet paan
 
Stick to this order and you'll love it.
It's not just about the taste; the rasam and curd at the end are great digestives and the paan works as your mouth freshener.
 
Etiquette tips
Before you enter the place, be warned.
~ If you're the fork-spoon-napkin type, forget it. This is as basic as it gets.
~ Carry a couple of hankies. The non-veg items are S-P-I-C-Y!
~ There are no bookings. You might need to wait for 15 to 20 minutes if you go there on a Sunday.
~ The entire staff is from Andhra. So is 80 percent of the clientele. All the Telugu chatter can be a little overwhelming (for non-Andhra-ites)
 
Most sons of the Andhra soil wrap up a hard week's work in the capital city with a typical Andhra-style lunch and the Telugu movie shown at the AP Bhawan auditorium every Sunday. It's a great feeling when you are miles away from home.
And if all you Dilli-wallahs can't get yourself to watch a Chiranjeevi movie in an indecipherable language, don't fret.

Just head for the canteen. I guarantee you, you'll be back!
 
Address
A P Bhawan Canteen
A P Bhawan
1, Ashoka Road
New Delhi - 100 001
Phones: (011) 23382031, 23889182
Abhishek Saxena, 27, is a brand manager by profession and a foodie by choice. A graduate from MICA, Abhishek hails from north India, but was born and brought up in Visakhapatnam, which explains his penchant for Andhra cuisine.
Rate it in terms of food, ambience, service, accessibility, whether you will go back and whatever other factors come to mind.
Send in your reviews in 700-1,000 words.
Don't forget to add the restaurant's address and phone number. Do send in your full name, age, the city you are from, your profession and your contact number.