The name Chandni Chowk brings to mind the flea markets of Old Delhi, a shoppers' paradise, where people hunt out great bargains.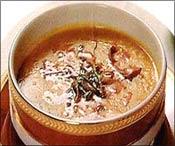 But the Chandni Chowk I refer to is a food place in Bangalore -- a restaurant which offers a variety of north Indian food. It is located in the upmarket area of Koramangala, just next to the National Games Village. 
From the outside, you may mistake it for a fly-by-night dance bar. With an 'aesthetic' appeal like that many people would not want to venture inside. But you will be in for a surprise the moment you enter.
The ambience is really appealing; it is decorated with bandhini dupattas and other colourful wall hangings and well-lit to make the place look nice and bright.
The seating consists of stone slabs. Not everyone enjoys this. You do have cushions, though, kept on the seats, but for the adventurous, there's nothing like enjoying a hot meal, whilst being seated on a cold stone slab.
Music-wise, you will probably get to hear a bhangra remix of the Summer of 69, which blares from a small speaker, kept inside a mutka (a big mud pot).
The menu has a lot of variety with Lassi, Jal Jeera, different types of chicken and mutton curries and Stuffed Parathas and Kulchas. For vegetarians, there's the usual Dals, Paneer and other vegetables.
Being a foodie myself, my favourite is the Chicken Reshmi Kebab and Jal Jeera to begin with. And for the main course I go on to have Half Butter Chicken and Stuffed Kheema Parathas. A Half Butter Chicken will fill up two people easily. Don't miss out on the authentic Dal Makhani which is a treat for your taste buds.
If you are a mutton fan, this is THE place for you. The mutton curry is sumptuous and the mutton is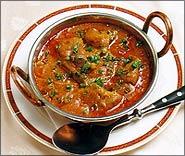 done just enough for you to enjoy it.  The masala and spices are measured right too, spicy, but will not burn your tongue.

As for dessert, order a Gulab Jamun and you will be happy that you had a wonderful, yet simple meal.
The icing on the cake is the bill. For two people your bill should be around Rs 400 only and this includes a drink, appetisers, the main course and a sweet dish!
This is a great place for dinner. The service is decent and you can finish your dinner within an hour, on a normal day.
But a word of caution: on weekends the place is so packed you may end up sans dinner.
Address
Chandni Chowk
Next to National Games Village
Koramangala
Bangalore -- 560 067
Sanjiv Srinivasan, 26, was born and brought up in Delhi and currently works in Bangalore in the financial sector.
Are you a self-confessed foodie? Recommend a restaurant. Tell us all about the food (vegetarian and non-vegetarian), the ambience, service, accessibility and whether you plan to head back.
Don't forget to add the restaurant's address and phone number, along with your full name, age, the name of your city, your profession and contact details.
DON'T MISS!