he retail boom is here to stay.
And it brings with it the promise of a lucrative career, money and growth protential for the young and ambitious.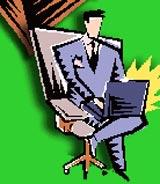 Here's why you should consider joining the retail sector:
Next, you need to find a job profile in line with your interest and aptitude.
Sales
~ Every retail store depends on the salesforce to sell its merchandise. If you enjoy interacting with people and love to be a part of the customer's final purchasing process than retail sales is for you.
~ You would be expected to provide a high level of service and expertise. Since you will directly interact with those buying the products, you must know the product well.
~  You must be flexible, levelheaded, and have a knack for problem solving.
Do you qualify?: These positions are typically entry points into a career in retail, and a graduate with the right mix of qualities can make a start.
Store manager
~ If you always wanted to run your own business or thrive in an environment that changes rapidly then store management is the perfect career option for you.
~ Store managers are responsible for managing an individual store. Most store managers take on the duty of day-to-day operations of the store.
~ You would be responsible for encouraging and inspiring the staff to do their best.
~ You would have to understand and analyse the business and execute plans to achieve sales and profit targets.
Do you qualify?: Graduates in any field with at least two years of experience are given preference.
Retail manager
~ The role of retail manager involves understanding the mindset, habits and lifestyle of the customer.
~ He/she also plans and coordinates the operations of the outlet.
~ This involves determining the layout of merchandise, monitoring the stock levels, placing orders for new stock, managing the supply chain and keeping and analysing records of all financial transactions.
Do you qualify?: You should be an MBA with at least a years' experience. You must also be inclined towards a high level of customer service. 
Retail buyers
~ Retail buyers are responsible for selecting the merchandise for a store and then physically buying the goods.
~ They must look at a variety of products and select the right goods for the store. 
~ They are expected to study their customers and buy merchandise for the customers' particular requirements.
~ A buyer's measure of success is calculated in terms of sales, profit, and customer satisfaction. 
~ Retail buying can lead to these career paths. 
Successful retail buyers get into store management.
They could climb up the ladder to become divisional merchandise managers.
Some buyers can branch into product development.
If you have a strong aptitude for numbers, merchandise planning is the way to go.
Do you qualify?: You could be a graduate with some amount of experience in the related area.
Product development
~ Retailers today have identified private label merchandise as a viable option. So if you are looking at creating merchandise, working with designers and manufacturers, and developing marketing plans, if you think you can draw the end product from a sketch or concept, then you will thrive in product development.
~ Most product developers have a background in merchandising.
~ A product development manager needs to understand the timing, quality of product, assortment planning, and financial issues facing a buyer.
Do you qualify?: You need a graduation degree and a few years of experience, to get into product development.
Merchandise planning
~ In many large retail organisations it is observed that buyers usually do not develop the financial plans, and distribute the quantities of merchandise to each store. This function is largely handled by the merchandise planner.
~ Do you have the knack for numbers, organisational and people skills? Do you enjoy analysing the business and suggesting changes on ways to improve the wrong? Then merchandise planning may be the path for you.
~ The merchandise planner is expected to understand the challenges of both a buyer and the store manager. The merchandise planner works closely with the buyer to understand the assortment plan and marketing strategy.
~ The planner may also be involved in inventory control and price changes.
Do you qualify?: The pre-requisite would be an MBA with at least two years of experience. You could also be a  graduate with seven to eight years of experience.
Retail design/Visual Merchandising
~ Retail design or visual merchandising plays an important role in this business. Designers or visual merchandisers are the ones who give a face to the brand. 
~ Corporates are realising the importance of brands and their image. It is through good designs that a retailer can enhance the brand image and attract the customers to the store.
~ If you have an eye for detail and a creative mind, retail design can give you the opportunity to go wild with your ideas.
Do you qualify?: A course in designing would be a good way to launch into a career in visual merchandising.
DON'T MISS!