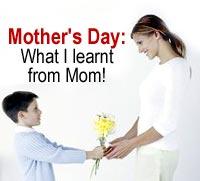 ou are the apple of her eye.
There is no one on earth who loves you as much as she does.
She is the one who has fed you, clothed you, cared for you and raised you.
She has taught you invaluable things. Love. Affection. How to save. How to cook. How to give. How to fend for yourself. And much, more more!
And that is what we would like you to share with us, dear readers!
We invite you to tell us what you have learnt from your mother, this Mothers' Day, May 8.
Go on. Write to us! Tell us what you learnt from Mom!
NOTE: The best entries will be published on Get Ahead. The entries may be edited for brevity. Please send in your entries with your name, age, place of residence and your e-mail address by May 8.