e designed ships as a student of naval architecture.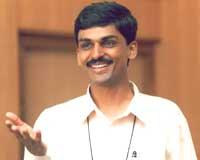 At IIT Kharagpur, Rahul Bhalchandra realised engineering was not his calling. Later, employed at HCL Technologies, he says he sold computers -- a far cry from naval architecture!
When he was younger, he wanted to be an IAS officer, and he followed his desire by appearing for the Civil Services examination. He did not clear it, and enrolled at IIM-Calcutta.
Today, Rahul, 37, is Business Head, Health & Glow. A joint venture between the RPG Group and Hong Kong's Dairy Farm International, Health & Glow is india's first retail chain of health and beauty stores.
In this first person account, Rahul speaks about his learnings at business school, his career highs and career prospects in the personal care industry:
What I learnt at B-School
i. Once I joined IIM, I understood that, in the private sector, you can make a lot of strategic calls in the organisation, depending on your position. You can literally drive the organisation.
A government setup, on the other hand, is very big. You can't do anything much there. You have to follow the rules of the system.
Administrative service offers a lot of satisfaction in terms of doing things for the public. But it does not allow you to influence the system, something you can do in a private sector organisation.
That is the main motivation for me.
ii. At IIM, you get a good perspective of how an organisation is put together. It gives you a platform to start off.
How you use it (the knowledge) later in life depends on you. You could use it effectively; you may not use it.
My career highs and lows
I would call my decade-long journey -- which started as a management trainee to the Business Head of Health & Glow -- unexpected.
There have been highs and lows, and I went through some very painful times in my career.
The dotcom bust was one such. We put in so much effort. Nothing came out of it, and the company wound up. Many people lost their jobs. It was very sad, both personally and professionally.
It helped me take good news and bad news in the same spirit.
Personally, it equipped me to deal with stress much better, and not carry that stress home.
Professionally, it was a great learning experience because in that one year, we were exposed to so many things which we may not have probably faced in a normal job.
What I have learnt at Health & Glow
When I joined the business in 2001, the company was completely in shambles. Today, it has been seen and acknowledged as a successful retail model.
For six months after I joined, I did nothing except learn the business and the personal care market. Then, I closed a lot of stores -- a painful decision that people became very sentimental about.
In hindsight, everyone is happy that we did it.
In the first year, we demonstrated that growth was possible: we grew 26%. We have since grown by 50% every year.
What I would tell management aspirants
i. Be ready to learn. Work hard.
ii. Don't take a stance about what you want and don't want too early. You must be flexible.
iii. There is a lot of flexibility in a manager's career. That is the good thing about management.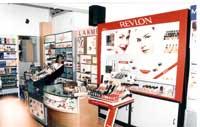 The personal care market
The personal care industry in India is estimated at about Rs 3,000 crore (Rs 30 billion) to Rs 3,500 crore (Rs 35 billion) per annum.
If this expands to include health, medicines and personal care products, the market is about Rs 30,000 crore (Rs 300 billion) to Rs 40,000 crore (Rs 400 billion).
Career opportunities
There are two kinds of jobs in the beauty and wellness industry:
Services: salons, spas and various treatment centres that impart service to the customers.
Retailing.
Health & Glow offers two types of careers in retailing:
1. Operations
This team runs the stores. They manage the stores, stocks and the products -- in fact, everything about the store. You see these people on the floor of the store.
They need to undergo a fairly high level of training. Purchasing is a high involvement activity, so you have to generate enough trust in the customer that a product is worth trying out and not going to harm.
This requires a lot of training in terms of knowledge.
We also look for leadership quality in the operations team.
~ Store Managers
The Store Manager level contains direct recruits and people who have moved from the frontline level.
Fresh graduates and MBAs with good communication skills and a pleasant personality are selected as Store Managers.
Running a store is like running a business. In a store, you have a team of 20 under you. You have to manage the stocks, manage the supply relationships, and manage cash and sales.
It gives you a perspective of a very well rounded business role.
~ The frontline level
At the frontline level, we recruit those who have passed Class XII.
2. Merchandising
The merchandiser is the brain behind the retail. S/he decides what to keep in a store, how much to keep, how to promote and display, how to market the products, etc.
Those with analytical and negotiating skills are recruited for this post.
Recruiters also look for influencing and persuasive skills in the candidates.
If you want to grow in this career, you should have both retailing and merchandising experience.
What you will earn
A fresh MBA who starts off as a Store Manager can earn Rs 20,000 per month.
Incentives are given based on your performance.
Growth in this career
The beauty industry is considered a 'booming industry'.
With a lot of new players, retailers and service providers entering the market, everyone in this industry is excited.
Anybody with a couple of years' experience is valued, since there are not too many people with experience in the beauty industry in India.
So it is a great field to be in over the next two to three years.
Rahul Bhalchandra spoke to Shobha Warrier
Photograph: Sreeram Selvaraj
DON'T MISS!