he Board exams are an important milestone in your life and if you do not fare according to your expectations, you may well feel your world come crashing down.

Feelings of worthlessness and hopelessness could set in; your family may feel the same way.

Often, these negative feelings could lead you to take drastic measures -- measures where you harm yourself.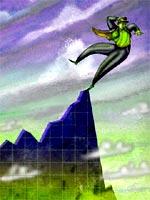 Instead, take a matter-of-fact view of failure and you will realise that, every time you fail, you are actually learning something. You can use this experience to avoid future mistakes and be successful in whatever you do. 

Do you expect to fail?
~ Your experience in past exams, and your own analysis of how you have written the Board exams, will give you a rough idea of whether you are going to pass or not. Hope for the best, but be prepared for the worst.
~ If you have a strong feeling you are going to fail, start to prepare your family for the possibility. Share your doubts with them while you are preparing for your exam and after answering your paper. If the news of your failure comes as a surprise to them, it will hurt all the more. 

~ If you and your family are prepared, then you will have the support and the resilience to face it with courage.
Why do you expect to fail?

Ask yourself why you have failed. Could it be one or more of these reasons? You must be brutally honest when you answer these questions.

1. I have a poor understanding of particular subjects.                                                

2. I have proven low IQ (through an IQ test).                                                     
3. I am forced to do academic subjects because there are no vocational electives available. 

4. I could not benefit from a group tuition, but there was no alternative.                
5. I did not take my studies seriously.                          
6. I have always passed with last minute study so I thought the same would work with the Board exams.  

7. There was a line-up of cricket matches which I could not avoid watching.
8. I wasted a lot of time in going to various people for guidance and did not give myself space to assimilate and self-study.

9. I had so much of study material that I did not know where to begin.                  
10. There were so many fights in the family that I could not concentrate.                      
11. There was a parting from or a death of someone dear to me, so I could not study.       
12. There was a crisis in the family hence I could not study.                                   
13. I fell ill quite often and could not cope with long hours of study.                      
14. There were riots or political disturbances and I could not attend an exam.     
15. There was a natural calamity just before the exams and I could not study.
How to analyse failure objectively

Asking yourself the above questions will help you identify reasons due to which your performance suffered.
i. I have limited abilities (reasons 1, 2, 3, 4) 

~ Accept the fact and do not brood about it. Just take the right decision.
~ Try hard and sincerely to pass if it is a must to take academic subjects.
~ Opt for suitable alternatives such as vocational subjects or completing your education through the open school system.
~ Choose vocational/ skill-oriented courses available for those failing in the board exams. These courses offer you a good prospect of earning a living.
ii. I tend not to study hard enough (reasons 5, 6, 7, 8, 9) 
~ There's no short-cut to success, so decide whether you want to just pass or excel.

~ Make a good time-table and follow through with it.

~ Organise your study material well.
~ Do not sit and relax until your difficulties are solved thouroughly. There's more than enough time for that after your exams.
~ Write, write, and write again while revising. This will increase your speed and help you complete your paper on time.
iii. Family circumstances are disturbing my studies (reasons 10, 11, 12) 
These are beyond your control. For instance if you have noisy siblings who don't allow you to study, you can consider these options.
~ Go away temporarily from home when you need to study.
~ Get into the driver's seat and try to control your environment. While the driver is driving, all sorts of things happen in the car. There's music playing, people talk and there are distractions outside the car as well. But all the driver sees is the road ahead. Like the driver, you must not lose focus; try to find ways to concentrate on what you need to do.

In case you still fail, you must speak to your parents and explain that the circumstances were beyond you; you alone were not responsible for your failure. This will give your parents an opporunity to correct the situation.

iv. Social circumstances/natural calamities (reasons 13, 14, 15)
Riots, bandhs, strikes or unplanned calamities are beyond your control. You cannot do anything about it; in certain exceptional cases, you could consider changing your residence.
If such a situation does arise, be happy that you are alive and look forward to alternatives.
Is there a life beyond failure? 

When you fail, your life seems like a big, bad blotch. Instead think of it as a small dot and you will know that there is a lot of space to fill your life with colours.                                                                                      
Think of all those great people who made it to the top despite failing in school. Read success stories like that of  Abraham Lincoln, who once said, 'Success is going from failure to failure without losing your enthusiasm.' These stories will inspire and motivate you in the right direction. 

Do not be afraid of life. Do not be afraid of failure. Face it head-on and you will overcome it.

Aaruna Jain, has 22 years of experience in the field of counselling and an MA in Family and Child Welfare from the Tata Tata Institute of Social Sciences, Mumbai. She currently consults as a counsellor with Indian School, Muscat.

TOMORROW: How to cope with your child's failure