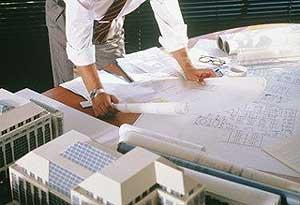 Yesterday, Get Ahead presented 6 essential skills needed for an architect. Now here's how you can become one!

ow you can enrol for the Bachelor of Architecture programme
~ You must have completed your Plus two education with physics, chemistry, mechanical/ engineering drawing and mathematics, with a minimum of 60 percent marks.
~ Entrance to architecture courses is through national and state level entrance examinations.
~ The Council of Architecture conducts national level entrance examination for entry to undergraduate programmes in government and private institutes.
~ States like Tamil Nadu hold separate entrance exams at architecture and engineering colleges.
~ Private institutes conduct entrance exams of their own.
~ Entrance to architecture programmes at the India Institutes of Technology is through the Joint Entrance Exams (JEE) held in May each year.
Exclusive! Check out what Shobhaa De says on Shaadi: SMS SHO to 7333
~ In addition to the entrance exam, you have to appear for an aptitude test. This test assesses your ability in the following areas:
Visual and spatial perception
Colour concepts
Freehand drawing
Aesthetic aptitude
What skills do you need?
Astuteness and many of the other qualities seen in business people, artists and scientists are essential for an architect.
Good academic skill.
Analytical thinking.
Good observational eye.
Awareness and appreciation for social and environmental factors.
General knowledge about the history of architecture.
Knowledge of well-known architects and their styles of working.
Interest in political, religious and historical events.
Good imagination and dynamism.
Talent; practical, interpersonal and organisational skills; patience.
Disciplined, and a responsible nature.
Cooperative nature; able to work in a team.
Well-versed in legal language surrounding the profession.
Supervisory skills and leadership qualities, physical stamina (needed on-sites).
Good at communicating their unique vision or building up an convincing image of the project.
In a nutshell, a successful architect needs talent, practical, interpersonal and organisational skills
Where can you study?
Sir JJ College of Architecture
78/3 Dr D N Road
Fort
Mumbai -- 400 001

College of Architecture
S No 341
Opposite Kherwadi
Bandra East
Mumbai -- 400 051

Rizvi College of Architecture
Rizvi Educational Complex
Off Carter Road
Bandra West
Mumbai -- 400 050
Indian Education Society's College of Architecture
791, Bandra Reclamation
Bandra West
Mumbai -- 400 050
National Institute of Construction Management and Research
Trust Office
Walchand Centre
Tardeo Road
Mumbai -- 400 034
Marathwada Mitra Mandal's College of Architecture
302A Deccan Gymkhana
Pune -- 411 011
What can you specialise in?
Some architects prefer to go in for specialisation at the post graduate level.
They may choose to specialise in urban designing, regional planning, building engineering and management, architectural conservation, industrial design, landscape architecture, naval architecture, architecture concerning traffic and transport planning, etc.
Architects also work in construction housing societies and apartments, schools, hospitals, commercial complexes, etc
Where can you work?
i. In the case of government jobs, pay scales are according to the rules set by the government.
The salary amount is fixed and is not as lucrative as the private sector.
However, there is job security plus the advantage of perquisites like pension after retirement.
ii. The starting salary (stipend) in a private architectural firm is around Rs 3,500, which will increase to Rs 8,000 with a few years' experience.
Consultants charge anywhere between 4 and 10 percent of the total cost of construction for apartments and multi-storied buildings.
They charge 15 to 20 percent of the total cost of construction for independent houses and bungalows.
Getting started
i. You need a practical apprenticeship with an architectural firm in the final year of your architecture course.
ii. After graduation, you must work as an apprentice with an architectural firm/ agencies/ firms for managing small assignments. You will thus learn the technicalities involved in design under senior architects.
iii. Soon, you will start handling small projects and make architectural plans. Your architectural training will help you develop the ability to work independently.
iv. Experienced and senior professionals in architecture work on large assignments usually have a team of junior architects, architectural assistants, etc. They work as consulting managers -- directing, inspecting and dealing with major technical issues, costing, legal decisions, etc.
It takes ten years and more to reach their position.
Getting down to the nitty-gritty
i. In practice, an architect accepts a commission from a client -- a person, a board of directors, a government agency.
This commission may involve the design of a single building or a group of buildings and the spaces between them.
ii. The architect participates in developing the requirements that the client wants in the building.
iii. Throughout the project -- from start to completion -- the architect usually acts as the coordinator of a team of highly qualified specialists.
The building owner or the architect retains structural, mechanical, electrical engineers and other specialists.
iv. The architect must ensure that the work of all these different disciplines is coordinated and fits together in the overall design.
v. S/he also plays close attention to the economics and budget for a particular commission.
vi. Architects also deal with various government agencies on municipal, provincial and federal levels, on numerous codes and by-laws.
There are many factors which dictate the eventual design of a building. The final built form results from the input of many specialists and the client, after the okay of the government agencies.
This is why creative design is only one aspect of being an architect. You must have technical knowledge, administrative skills and an understanding of good business practice.
Your prospects
Architecture has always been recognised as a profession. But it has advanced at a tremendous pace only recently.
The field has changed from what was once thought as an artisan skill to a colossus industry covering small, large and private sectors as well as cooperative sector enterprises.
From the once basic necessity of housing and shelter, emphasis is now on comfort, luxury and style.
This has led to creation of avenues for those interested in making a career in this sector.
In the last few decades our economy has witnessed hectic and massive construction activities, new structures have been raised, townships have evolved -- all this is evident of growth in the sector.
Today, the demand is for professionally trained architects who can not only move in tandem with the times but also design and deliver.
Since space is at a premium these days, it is worthwhile to employ the services of an architect, who specialises in organising space. An architect also knows plumbing, air conditioning, electricity, engineering details, the effect of temperature and climate changes on the house, building law and regulations, etc.
An architect helps balance aesthetics and functionality.
The architect's role is also vital in improving the quality of life.
And that is why they have a good social standing and the profession, in general, is considered very respectable.
The architecture industry is directly influenced by the demand in the construction industry, which is now experiencing a boom.


YoungBuzz is a corporate organisation specialising in career counselling and manpower development. It also helps students better their future.