Minimalism is in when it comes to cocktails, at least in the rest of the world where they may like to serve up your drink in the choicest of crystal. But when it comes to the dressing up department, they display a strange lethargy -- a few squeezes of the lemon does better than those bothersome, perfectly executed long twists.
After all, reasonable people point out this approach is infinitely more refreshing than tacky umbrellas or toothpick poles of canned fruit -- besides being more nutritious.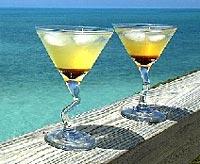 But not everyone in the world is reasonable and I, for one, have a problem with such a rationale.
First, we don't exactly depend on our vitamin C from the three drops squeezed into our Bloody Marys.
Second, I am not condoning cheesy pina coladas but, with or without the umbrellas, the fact remains that a dressed up cocktail is much better bet any day. For don't we first drink with our eyes?
Luckily, if you do, like me, place a premium on looks, there are a number of interesting -- and stylish -- things you can do to the routine cocktail. In a world made tacky by plastic swizzle sticks and straws, the first thing I'd recommend is to get back to basics -- or classics, in this case.
Food consultant Sonia Mohindra recalls how, in the good old days, "we were all taught to put a celery stick in a Bloody Mary."
The classic approach remains classy and is back in vogue internationally too. So if you want to be safe, the simplest way is to stick to the classic garnishes recommended with each classic cocktail (think olive for a Martini, lemon twists for a clear, citrus drink, wheels and half wheels in punch bowls).
The lemon wedge is the simplest of the classic garnishes. Even if you do nothing else, stick it to the rim of a drink that you think will benefit from the extra flavour, say, a simple gin and tonic. The wedge can be conveniently squeezed into the drink.
While on wheels, avoid slicing either too thinly or too thickly -- just under a quarter inch is good for large wheels. The twist is more difficult to accomplish. In most bars the length would be about one or two inches but longer, thinner ones are definitely prettier provided you can get them right.
If you want to be more innovative, however, just let your imagination run. Only take into account the flavour and colour of the drink you are serving. Needless to say, a garnish should not be overpowering but must complement the cocktail.
Bhudan at the bar at Shalom, the New Delhi lounge where I have had some of the best mojitos imaginable, has some interesting ideas.
He recommends using thin carrot sticks instead of the swizzle stick for drinks with a fruity/ vegetable flavour (He himself uses this for a summer cooler, a cucumber-guava juice-vodka concoction spiced with chaat masala!). Or use a lemon grass stick in strong tall cocktails like a Long Island Ice Tea.
A sprig of basil can rev up the old Bloody Mary, particularly if you are using guava juice instead of tomato, Bhudan vouches.
Another easy and trendy way to do something different is to use frozen fruit bits in a clear drink. While fruits such as black grapes, kiwis and star fruit (the last recommended in a dry Martini, if you were wondering) are the toast of the cocktail circuit, an interesting garnish would be to freeze bits of these in water in an ice tray and then use them to garnish clear drinks with milder flavours.
Similarly, frozen cubes of fruit juice or pulp could be smashed into a drink to complement the flavours. For creamier drinks, instead of the usual pineapple, use chocolate flakes.
Waiting to get started? Stock up on a good paring knife (a sharp knife makes all the difference in the world), a chopping board, the mandatory toothpicks and/ or wooden skewers plus the ingredients. Whether it is fancy cocktail onions and stuffed olives or the usual cherries and pineapple, whatever you put into that drink, make sure to add a dash of imagination.