The 'business school' option is a serious proposition for most graduates today. With each passing year, we are witnessing a sharp growth in the number of applicants for various MBA institutes across the country.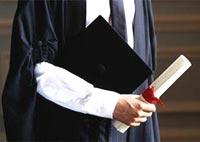 This is because the general awareness about an MBA degree and its benefits has increased among the student fraternity. But they are still faced with many questions.
Which test should I take -- CAT or some other test?
Which institute should I apply to? 
Even before we arrive at the answer to these questions, you should be clear about your objective behind taking an aptitude test.
Why take CAT?
A good CAT score is your ticket to an MBA degree from an institute of repute.
This means you have to be clear about the list of MBA institutes you plan to apply to. Once the list is ready, you need to check the following admission details:
~ Eligibility criteria
~ Selection process
Let us first take a look at a list of top institutes in the country and assess their selection process.
Which institute do I apply to?
They say management is about decision making. MBA aspirants today must be able to take informed decisions even before making it to a B-school.
Take, for instance, the dilemma of which institutes to apply to. The fact that there are more than 1,100 B-schools in the country hardly helps!
In order to facilitate this decision making, let us list some top institutes in the country and the selection process you have to clear to gain admission
Top institutes offering the MBA degree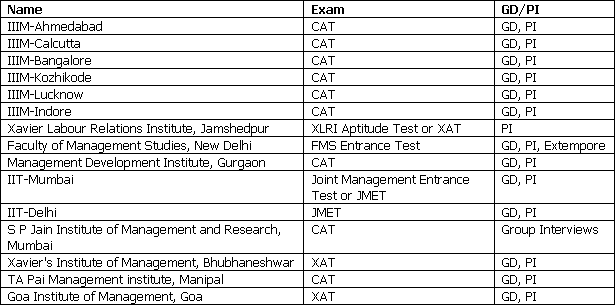 Top institutes offering 'management-oriented specialised courses
The MBA is a two year programme where students get an overview of all the areas of specialisation -- namely finance, marketing, HR, etc -- during the first year. They have to specialise in one of these during the second year.
However, some B-schools, in addition to regular courses, offer 'specialised programmes' that focus on one stream only from the very beginning.
IIM-C's PGD in Computer Aided Management and IIM-A's PGD in Agri Business Management are some examples of these specialised programmes. Besides, there are specialised institutes like the Indian Institute of Forest Management, Bhopal, and the Institute of Rural Management Anand in Gujarat, that are dedicated in the pursuit of singular specialisations.
From a long-term career perspective, you need to be very clear about your career interests before you apply to any of these 'specialised programmes'. Here are the top institutes:

Getting admission
The tables make it clear that the selection process is quite similar for all institutes. 
Once you have a fair idea of the institutes you wish to apply to, you need to revisit two important aspects that are necessary in your quest for admission into your dream institute.
~ Are you eligible?

You should check for the eligibility criteria for the entrance exam as well as the institutes, before you decide which institute you want to apply to.
~ Selection process

The leading institutes follow a detailed selection process.
i. Written Test
Admission to MBA programmes is through an entrance test. Based on the performance in this written test, students are shortlisted for the next stage.
Besides the entrance test, some institutes have additional criteria based on which they decide which students will make it to the next stage of the selection process.
Most entrance tests are conducted between November and January and are normally paper-pencil tests.
ii. Group Discussion/ Personal Interview
All short-listed students need to appear for a Group Discussion and/ or Personal Interview as a part of the second stage selection process.
Some institutes use other tools like Essay writing, Extempore, Group Tasks, Group Interviews, etc. to select students.
This stage of the selection process is held between February and April.
iii. After the two stages listed above, successful candidates are given the Final Call Letters for admission.
Part II: The ABC of CAT
Given CAT before? Write in and share your tips with other Get Ahead readers. Don't forget to add your name, age, the name of your management institute, the year in which you passed out and where you work now.
DON'T MISS!
IMS Learning Resources is an Educational Services Provider and a leader in test preparation.