study has confirmed that oysters, which are popularly believed to be aphrodisiacs, can improve your sex drive.
High levels of a chemical that boosts libido have been found in clams, a close relative of the oyster, suggesting that oysters also share the same quality.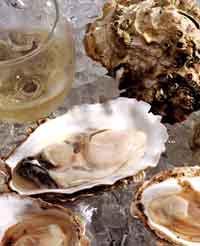 Even their texture is enough to turn some people on. 'Oysters are so sensual in nature,' concurs Diane Brown, author of The Seduction Cookbook, in the New Scientist.
Raul Mirza at Barry University in Miami Shores, Florida, and his colleagues compared levels of the amino acid, N-methyl-D-aspartate, in Mediterranean clams and other animals.
Previous studies in animals have shown that the chemical affects sex drive by raising testosterone production.
"Aphrodisiacs have existed since the dawn of civilisation, with almost every culture attributing some food or the other with aphrodisiacal powers," says Dr Prakash Kothari, professor-in-chief, Department of Sexual Medicine, KEM Hospital and GS Medical College, Mumbai.
But Dr Kothari says there is no food or drug that is directly sexually stimulating and that solves sexual problems.
"Often, other bodily problems spark off sexual problems. For instance, acidity and constipation could be the unsuspected culprits of a sexual dysfunction," says Dr Kothari.
Vatsayana's Kamasutra recommends Ayurvedic solutions to deal with such problems. This theory is also supported by Acharya Charak's renowned work Charak Samhita, considered the encyclopaedia of Ayurveda.
Charak recommends the intake of ghee made from cow's milk (not buffalo's milk), for healing acidity and constipation which, in turn, could turn around sexual dysfunctions.
Dr Kothari also dispels some common myths and shares useful nuggets:
Myth: Spanish Fly is an aphrodisiac
Fact: Spanish Fly, a substance made from beetles which is often slipped into your drink at parties, etc, and consumed, does not work as an aphrodisiac.
In fact, it causes the genitals to burn and cause dire side effects like nausea, vomitting, even death. Beware of this substance.
Myth: You can take pills, drugs for sexual desire
Fact: Desire cannot be forced by a drug or a sex tonic. It is something that must be felt from within.
However, sex drugs like Sildenafil and Tadalafil would help sustain an erection during the act of sex.
Similarly, common problems like Early Orgasm in men and Late Orgasm in women can be treated and overcome by drugs.
Things that could lead to dysfunction:
Habits like smoking and drinking alcohol like Scotch.
Conditions like diabetes and cholesterol.
This can lead to thickening of the blood which, in turn, obstructs blood flow. And it could lead to sexual dysfunction.