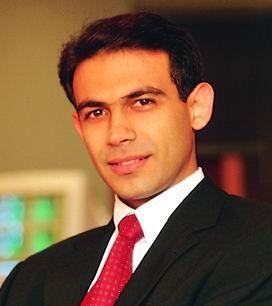 he BPO industry is here to stay, asserts Infowavz International CEO Zia Shiekh.
He discussed that and other matters concerning the BPO industry for an hour on September 21. Here is the transcript of the chat.
Zia Shiekh : Hi everyone, Zia here

---
Naina : Are there any openings at the management level in the call centre industry? I don't see any advertisements for that. I have done my MBA. Can you tell me how to apply for a management level position in this fast growing industry?
Zia Shiekh : Regarding management level positions in call centres, there is actually a strong dearth of good managers in the industry. While most BPOs only advertise for opening level positions (CSRs, TLs), you can definitely apply to join at more senior levels.

---
siva020299 : I am a post-graduate in commerce and am in the BPO industry for the past 4 years. I am good at making presentations and have a good confidence level and presence of mind and people management skills... What else is required for my growth in the BPO industry?
Zia Shiekh : To answer Siva's question, if you have good communication/presentation skills, along with presence of mind and people management skills, then BPO is definitely the right industry for you. I am sure you can build a very strong career.

---
Ruchit : According to a Gartner Inc research, Indian BPO sector is likely to witness a 25% slide by 2007.
Zia Shiekh : I agree with Gartner's analysis that the Indian BPO/call centre industry is likely to witness sustained growth of over 25 per cent per annum for many years to come.

---
iwonders : Is China a real threat for BPO industry in India?
Zia Shiekh : I don't think China is anywhere close to being a threat to India at this stage, especially for voice-based services. However, that doesn't mean we can relax because a number of countries, including Russia, South Africa, Costa Rica, etc, are preparing their workforce to be able to participate in and benefit from the global BPO boom.

---
Ricky : Tell me what exactly can be done to involve other industry people in the BPO industry?
Zia Shiekh : The good thing about the BPO industry is that it is not confined to any particular industry segment or even specific skill sets. There are opportunities across different verticals (telecom, IT, banking, finance, retail, etc.).

---
Desperate : The BPO industry is another dotcom boom waiting to go bust is what some analysts say. Do you think this will happen because if it does, it will mean lakhs of youngsters like me becoming jobless overnight.
Zia Shiekh : I am asked this question all the time. I don't think the BPO industry is at all similar to the earlier dotcom boom. Please remember that in dotcom, the entire world was discovering a new reality. Much of the dotcom boom was driven by media hype, advertising, eye balls and what not. As far as the BPO industry is concerned, it is actually a well-established industry globally. It employs around three per cent of the working population in the US as well as the UK. It has been around for several decades and as long as companies have customers, support will be required.

---
anony : Hi Zia. What about our personal life? There is no personal life left once we join a BPO or call centre?
Zia Shiekh : I agree that the BPO industry, especially those companies that offer real-time customer support, means significant lifestyle compromises. We have to work as per client time zones. There is no getting away from it.

---
batpasco : When will this BPO wave enter C-level cities. Now it's just the metros that are enjoying the big piece of cake.
Zia Shiekh : I think India has to do a lot towards making C-level cities participate in the BPO boom. First, the telecom/IT infrastructure needs improvement. With private players coming in, that has started happening. Secondly, from the people's perspective, our school and college curriculum needs to be more aligned with the industry requirements.

---
Ravi : Is it true that the burnout of call centre professionals is very high because of odd timings and work pressure?
Zia Shiekh : I agree there is a burnout associated with call centre professionals because of the odd timings and work pressure. However, there are ways to handle this. For example, at Infowavz we try to train our people about maintaining a healthy diet, about working with their families to ensure they are not disturbed after finishing a night shift, about destressing themselves through various means, etc. I think every industry has its own challenges. So does BPO. We just need to ensure we are taking the right steps to overcome these challenges.

---
prithvi : Mr Zia, is call centre experience useless in other industries?
Zia Shiekh : No. I believe that call center experience helps build confidence and develop communication abilities. These are very important traits for success in today's world.

---
sudhansu : Hi Zia, I am a post-graduate in commerce. I have been working in a contact centre in Hyderabad for the last one year. It is a Web based contact centre. I am in the LiveChat Customer Service Department. Are there any growth in LiveChat for me? If so, what are they?
Zia Shiekh : Web chat as a medium of customer contact has been growing globally as Internet penetration continues rising and as companies realise live-chat is oten a more effective and cost-efficient mechanism for customer service or technical support than telephone support. As such, I think there are strong opportunities there; especially for people who might not have great verbal communication skills. They can make a good career in it if their written English skills are good.

---
sahilgoyal : What do you think is the future of a call centre executive after five-six years. Is an MBA the only solution?
Zia Shiekh : I think there is a very bright future for call centre executives after five-six years. This is because by that time the person has built the experience and is ready to take on higher levels of responsibility. The pace of growth of the industry naturally ensures faster career progression and compensation growth than any other industry is able to offer currently.
---
meetsudesh : Hi Zia. What percentage would you attribute to high end stuff with regards to outsourcing work recived in India? Could you please let me know few of the companies which are involved in so-called high end BPO in India?
Zia Shiekh : Currently, most of the work being outsourced to India is not very high end. It is typically transaction-oriented work in back-office or scripted, repeatable, definable work in customer support. However, as India matures as a location for BPO delivery and as Indian companies increasingly move up in the value chain, I think there are going to be several higher end processes that will get offshored to India.

---
mohit2050 : What will happen if the US or other MNcs dont have enough work to outsource or refuse to outsource their work to India?
Zia Shiekh : Today, less than one per cent of business processes from the US are getting offshored to India. I think we have a long way to go before we start worrying about dearth of work. Regarding the US or UK government placing restrictions on outsourcing to India, I don't think that is really practical. In the Internet age, it is very difficult, if not impossible, to try and contain work in any particular location. Like much of manufacturing moved to lower cost countries in the 1980s, I think the same is happening in the service sector now.

---
vajra : Zia, how do we improve our communication skills and accent?
Zia Shiekh : Several private institutes train people in improving their communication abilities. However, many of them are simply money-making machines and offer poor quality of training. I would recommend going with top-end institutes with good brand names and established reputations, so you are sure of quality training.

---
sa_sachin : What are the essential qualifications for call centre jobs?
Zia Shiekh : For telephone support, the key requirement is your ability to communicate in the English language. It doesn't matter what degree you have (you might not even have a graduation degree), but if you have sound communication skills and are willing to work in shifts, I am sure you won't have any difficulty in getting a job in this industry.

---
anees : Hi Zia, how many companies are able to guage employee satisfaction? Is the BPO industry really interested in the same?
Zia Shiekh : You might be surprised to know that some of the best people management practices and employee facilities are being rolled out in the BPO industry. Right from the basics such as home pick-up and drops and 24/7 cafeterias; to more interesting areas such as regular parties, picnics, strong rewards and recognition programmes, career counselling, etc, are all being provided by leading BPOs. Regarding employee satisfaction, at Infowavz we have a quarterly employee satisfaction survey. Those results are taken very seriously and we ensure that we work towards addressing all grievances seriously.

---
KR : I do feel there are no actual growth prospects in the BPO industry... If you feel there is, can you help me visualise the growth ladder in the BPO industry?
Zia Shiekh : To give you an example of various functions within BPO -- Operations (CSR, team leader, supervisor, operations manager); quality (quality coach, quality assurance, quality engineering); training (voice/accent/culture trainers, product/process trainers); account management (process migration, project management, client services, business analysis); HR (resourcing, people development, people management)... the list goes on and on.

---
shivaji : Hi Zia, I asked you about the corporate communication options in BPO.
Zia Shiekh : Corporate communications is an integral part of the BPO industry because of the size of the labour pool in each company. I think you can develop a great career in corporate communications in BPO.

---
silverspy : The call centre boom has just given a host of low-value added jobs to India, where people change their lifestyles completely. What after 10 years? Where do we go from here. I don't see this industry lucrative after even two years. Also, Indian companies will take lot of time to move up the value chain. Your comments.
Zia Shiekh : I would disagree. The industry has generated employment in huge numbers. People are able to afford a better lifestyle for themselves and their families by participating in this industry. If you look at the rapid pace at which this industry has matured in India, I wouldn't be surprised if, within the next couple of years itself, we start doing a lot of higher-end value-add processes as well. In fact, some companies like Boeing, Microsoft, HP, etc. are already doing a range of very high-end finance & accounting, or engineering work out of India.

---
rakshith : Hi, is there a way a person staying abroad can get jobs in Indian BPOs? How does one go about it? I am a project manager in a contact centre in UK and my bosses are looking for cheaper labour.
Zia Shiekh : Of course you can get a job in an Indian BPO. With project management experience being in demand as more and more processes migrate to India, I think you can continue to build a great career in this industry.

---
Navin : Hello Zia, Navin here. Don't you think youngsters working late at night and frequenting nightclubs, in the name of work, and girls smoking and drinking are all because of the call centre industry? Don't you think that the industry is changing the cultural face of the country alltogher?
Zia Shiekh : I understand that there are several cultural issues that the international call center industry poses. But that is happening globally as the world gets integrated. Look at our movies or the music videos. India is definitely losing a part of its cultural identity as the younger generation gets more modern and Westernized. I think it is really up to each individual and their families to protect their identity and not let it impact the way we run and manage our lives.

---
bipin : Are there day shifts in BPOs?
Zia Shiekh : Yes. You can focus on companies that are doing either domestic support or, alternatively, focussed on back-office processing.

---
Shekhar UK : Zia, what do you think is the future of the Indian BPO industry, seeing theres is not much support from the government in terms of providing good infrastructure?
Zia Shiekh : I think the Govt has realized the long-term potential of the industry and is working slowly but surely towards ensuring that the export-oriented growth continues.

---
Sam : Please tell me some of the best call centres in Bangalore, according to you!
Zia Shiekh : Some of the leading Bangalore-based BPOs include HP, Dell, Microsoft, 24/7 Customer, Transworks, ICICI Onesource.

---
gunnu : Tell me, if BPO is such a great industry, why dont people from IIT or other premium engineering colleges work in call centres?
Zia Shiekh : I think that for the majority of work that is coming to India currently, high-end technical education or degrees are not required. This industry has really opened the floodgates for people who just had plain graduation degree (or maybe not even that) and are now able to get employment without first having to do an MBA.

---
ganesh : What are the problems faced by Indian companies in this space? What kind of specific services should Indian companies target in the BPO space?
Zia Shiekh : The key problems being faced by the industry are around attrition (high employee turnover as BPOs fight for the best talent) and managing growth (ie handling the large volume of work that is coming to India).

---
antibpo : What do you think about the future of the BPO industry?
Zia Shiekh : I answered this question at the beginning of the session. I truly believe that the industry has a long-term, sustained future. Let's talk in 10 years when I know that I will be proved right :-)

---
Subbarao : Name some good BPO Companies in Gurgaon, Haryana State.
Zia Shiekh : Some good companies based in the National Capital Region (Gurgaon, Noida and Delhi) include GE Capital, Amex, Spectramind, Daksh, vCustomer, Convergys.

---
kunal : A recent column in Business World termed BPO as Brain Paralysing Outfits. Do you agree? I certainly do.
Zia Shiekh : I don't think that anyone (apart from a surgeon perhaps) has the ability to paralyze people's brains. It is entirely upto an individual to ensure that he/ she is continuously learning and evolving. And I sincerely believe that the BPO industry provides enough challenges and opportunities to keep people on their toes.

---
Zia Shiekh : Let me now take the last three questions.

---
bond : What are the drawbacks of BPO?
Zia Shiekh : 1. Lifestyle compromises associated with working in shifts.
2. Working for 7-8 hours on the PC or being on the phone (if you dont enjoy that!).
3. Sometimes, the work may get monotonous as it is repeatable, definable.

---
Zia Shiekh : I am sorry that I haven't been able to address all your questions. I think if you go through the chat transcript, you will most likely find the answer to your specific question somewhere or the other. If you still need to ask me questions, please feel free to send in your questions to me. Click here to send me an e-mail.

---
Zia Shiekh : Thank you all very much. I have enjoyed interfacing with you and wish you all the very best! Goodbye!
---
DON'T MISS!
Zia Shiekh's Column: Opportunities in the BPO industry