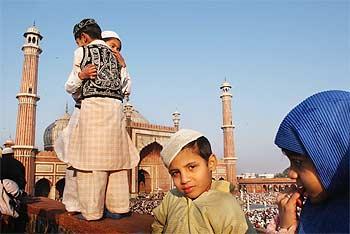 famous saying goes: Sabar ka phal meetha hota hai [Sweet rewards come to those who wait].
That is so true as I wait for the BIG day, Eid.
After fasting for 30 days during the holy month of Ramadan, Eid is the best thing I could get in return.
I come from a religious family.
Like any kid, I would bombard my mother with questions about Islam.
According to the Islamic calendar, which consists of 12 lunar months, Ramadan is the ninth month. We fast from dawn to dusk the whole month. Then, on the first day of the tenth month, Shawwal, we celebrate.
My memories of Ramadan have always been happy.
I remember my first fast. I was eight then. And very excited when my mother woke me up at dawn to a massive meal (Sehri) before beginning the fast for the day.
But that excitement didn't sustain me as the afternoon passed; I was so hungry.
At last, when the time for Iftar (the fast is broken at sunset) arrived, I wolfed down food with both hands (that day, I would have been really grateful for some extra pairs of hands and mouths).
I remember my mother telling me to cast a thought toward the poor. That was the first time I learnt the merit of self-control, which is what fasting teaches you.
Eid also meant waiting to wear my new clothes, meet my friends and relatives. And I got the chance when we went to the mosque for our prayers.
It is a lovely sight when thousands of men gather on the morning of Eid for our customary prayers. After the prayers, we hug and wish each other Eid Mubarak.
I would return home where a tall glass of milk and dry fruits would be waiting for me.
Since I was the youngest in my family, my aunts and uncles never forgot me when they handed out Eidi (a traditional gift of money). 
I used to get Rs 100 from each of my uncles. My Eidi would total Rs 500.
That was more than enough to party with my friends, all made richer by Eidi!
One of the best times I had with my friends was when we all set out to Haji Ali, in south central Mumbai.
We went to the famous Haji Ali Juice Centre and gorged on pizzas and juices.
This Eid, I'd like to share with you a few traditional recipes that my family prepares:
Green Chicken
~ Ingedients
1 kg chicken, cut into medium-sized pieces
100 gm cashew nuts
6 cloves of garlic
1 piece of ginger (approximately 2 inches)
1 green chillies
1 small bunch coriander leaves
1 tsp jeera
1 tsp salt
1 tbsp of oil
~ Method
Wash the chicken thoroughly and keep it aside.
Make a paste of the garlic, ginger, green chillies, coriander and jeera.
Make a separate paste of the cashew nuts.
In a kadai, fry the green masala in oil for a minute.
Add the chicken pieces and salt and fry on slow flame till done.
Add the cashew paste and cook for two minutes.
Serve garnished with slit green chillies and coriander leaves.
This is best eaten with chapattis.
Sweet Sevaiyya (Vermicelli)
~ Ingredients
½ kg vermicelli or sevaiyya, roasted
10 almonds
6 pistas
10 gm cashew nuts
10 gm raisins
A few strands of saffron
½ tsp elaichi powder
1 cup sugar
1½ glass of milk
2 tbsp oil for frying
~ Method
In a deep bottomed vessel, fry all the dry fruits in oil till they turn light brown.
Add the milk, sugar and vermicelli.
Cook on slow fire for 10 minutes till it thickens.
The sevaiyya is ready.
Sheer Khorma
~ Ingredients
½ pack vermicelli or sevaiyya
1½ litres milk
1 tbsp ghee
1½  cups of sugar
15 almonds
10 pistas
10 gm cashew nuts
A few strands of saffron
½ tsp elaichi powder
Method
Dry roast the sevaiyya in a kadai till it turns light brown. Keep aside.
In a deep bottomed vessel, heat milk on a slow fire, stirring constantly, till it condenses to approximately one litre.
Add saffron and sugar and stir some more.
In a separate vessel, fry the dry fruits in ghee till they turn light brown.
Add the fried dry fruits to the milk. Then add the roasted sevaiyya and elaichi powder.
Stir on low flame for 5-10 minutes and serve.
Would you like to see your recipes featured on rediff.com? Write in! Do mention your full name, age and phone number (with the area code). Tell us if it a traditional recipe or a recipe created by you.
Photograph: Ami Vitale/ Getty Images