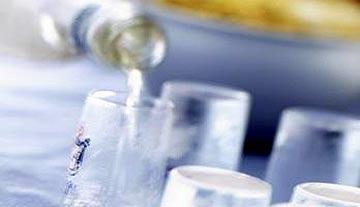 ow that our nationwide fascination with whisky is finally dying a slow, lingering death, it's time to get out there and see what else is available.
The popular vote seems to be going with vodka (and now that George Clooney has jumped on board, it's official) as the drink that keeps on giving: college kids drink it as shots; ladies that lunch drink it -- à la Sex And The City's Carrie Bradshaw -- as cool cosmopolitans; grave businessmen drink it (when they can be dragged, kicking and screaming, away from their scotches) straight, on ice.
Vodka, experts will tell you, is quite a subtle drink, which means that not only is it smooth by itself, it goes down well with cocktails too.
And bartenders enjoy knocking themselves out coming up with new vodka-based concoctions; at least, this is the impression we got when we went down to the new vodka bar in Delhi, Aura at the Claridge's. Here are a few of their suggestions on how to enjoy the perfect vodka.
First, the die-hard vodka aficionado will always insist that the best way to go is straight. Now that we have access to elegant vodkas from all over the world like Russky Standart (Russia), Goldwasser Herbs (Poland) and Grey Goose (France), all available at Aura from between Rs 250-375, we should take our time with them, sip at them slowly, and try not to attack at once with orange juice (or, heaven forbid, Sprite).
But if it's cocktails you're after, there's no reason not to do it in style. The next time you're out, instead of your staple screwdriver, try a chocolate cocktail: at Aura, there's the Hot Chocolate, a mixture of Mozart Chocolate Liqueur and Chilli-Infused Vodka (the chilli gives it a kick) and the wickedly misnamed Angel's Delight (Vanilla vodka, kahlua, Baileys, cinammon liqueur and dark chocolate purée), among others.
Of course there are healthier options. For the goodness of apples, try the Blue Delhi, a fruity mix of Grey Goose, blueberry purée, crème de mure, apple syrup and fresh lemon juice. And most cocktails do include fruit in some form or another, whether it's apple juice, orange bitter, lemon syrup, or even chunks of pineapple  -- so that's your Vitamin C quotient taken care of.
There are also some rather unusual options; the Spicelandic, for instance, has vodka infused with coriander, and the Wasabi Breakfast-Ini includes the Japanese wasabi sauce. Neither of these ingredients spring to mind when thinking of a vodka cocktail, but somehow the people at Aura have made them work.
The other new trend, now that Absolut has flooded our mini-bars (finally available now in liquor shops as well as bars and restaurants), is flavoured vodka. These make great mixes, especially now that Christmas is around the corner.
For instance, you can make a Christmas cooler with their Mandrin and Kurant flavours (at Rs 1,325 each), mixed with strawberry liqueur and white wine; or punch, although this is a complicated procedure involving honey, cloves, mint leaves, cinnamon sticks, cranberry juice, a saucepan and a lemon slice.
But whatever the drink, it's best if it comes in a startling colour (think electric blue or shocking pink), and if you're mixing at home, remember to throw in an orange spiral or, at the very least, a paper umbrella. Be extravagant; throw in the raspberry vodka, passion syrup, guava juice, champagne and a pomegranate (not all together though), and please throw out the Sprite.