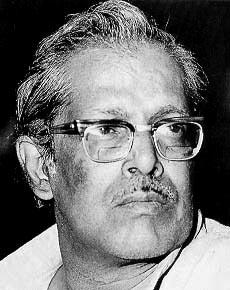 Hrishida's movies
• When the audience cried with Anand
• The haunting notes of Abhimaan
• Golmaal: Of men and moustaches
• Namak Haram: Clash of the titans
• Guddi comes of age
• The searing pain of Anupama
• Musafir: A classic no one remembers



Legendary director Hrishikesh Mukherjee passed into the ages on August 27, after a prolonged illness.

The filmmaker was undoubtedly one of the finest Bollywood has had. His films like Anupama, Ashirwad, Guddi, Anand, Abhimaan, Chupke Chupke, Golmaal and Satyakam were entertaining, well-made and always meant for family audiences.

On his 84th birth anniversary on Saturday, September 30, rediff.com pays him tribute.

Slide show
• Hrishida's best films

Report
• Hrishikesh Mukherjee dead

Tributes
• Hrishida was the heart of Hindi cinema
• Saying the final goodbye
• The lure of Hrishida's films
• Remembering Hrishida
• Dharmendra: No one like Hrishida today
• He was supportive of good cinema
• Hrishida: Cineaste in mainstream cinema
• A tribute from the Bawarchi

Message Board
• What is your fave film by Hrishida?