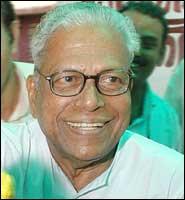 Capping intense debate within, Communist Party of India-Marxist in Kerala on Monday unanimously chose party veteran V S Achuthanandan as chief minister of Kerala, but the faction led by state secretary Pinarayi Vijayan gained a clear upper hand in the choice of party nominees for the Left Democratic Front ministry which will assume office on May 18.
A brief party comminique issued at the end of the day-long state committee meet said the election of 82-year-old Achuthanadan to lead the ministry was unanimous.
Though the party was yet to make an official announcement regarding the ministers and their portfolios, indications were that Achuthandan was unlikely to get the key home portfolio, which was likely to go to Pinarayi loyalist Kodiyeri Balakrishnan.
The state committee put its stamp of approval to the list of 11 ministers submitted by Vijayan, seven of them members of the state secretariat -- Paloli Muhammadkutty, Kodiyeri Balakrishnan, P K Gurudasan, M A Baby, T M Thomas Isacc, A K Balan and P K Sreemathi.
Others finding their way into the ministry are M Vijayakumar, Elamaram Kareem, G Sudhakaran and S Sarma, all of them members of the state committee.
Former minister K Radhakrishnan would be the speaker of the assembly.
In the 19-member ministry being planned, Communist Party of India, the second largest partner in the LDF, would have four ministers while Revolutionary Socialist Party, Janata Dal-Secular and Kerala Congress one each.
The CPI state executive is meeting in Thiruvananthapuram on Monday to finalise its nominees in the ministry.
The LDF state committee would meet in Thiruvananthapuram on May 17 to take a final decison on portfolio distribution.
The swearing in ceremony would be held at the Chandrasekheran Nair staidum. The LDF has swept the polls securing 98 seats in the 140-member house.
 
Also See: The Five-State Fight
Kerala's new icon: Brand Achuthanandan