His journey to the chief minister's chair took 32 years.
But Bhupinder Singh Hooda entered mainstream politics with a bang by defeating the patriarch of Haryana politics, Devi Lal, thrice since 1991 in the Lok Sabha elections.
His only stint in the state assembly in 1996 was cut short as he resigned last year on being elected to the Lok Sabha for the fourth time.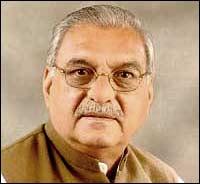 Hooda, 57, never saw eye-to-eye with four-time chief minister Bhajan Lal, who was left behind in the race for the top post after the Congress' landslide victory in the February assembly polls.
It was with the backing of Jat leaders, including Jai Parkash, besides leaders of other communities like Union ministers Selja and Rao Inderjit Singh and industrialist MP Navin Jindal that Hooda ended up in the hot seat despite not being a member of the assembly.
Congress president Bhajan Lal's claim to CM was said to be the strongest, having led the party to victory in last year's Lok Sabha polls with nine of the 10 seats in the state and a repeat in the assembly polls with a good showing of 67 of 90 seats.
Both Bhajan Lal and Hooda have strong camps within the state Congress, but the Jat leader finally found favour with the Congress high command.
Bhajan Lal's slide became evident recently when the in-fighting came to the fore and six of the nine sitting MPs wrote a letter to the Congress high command saying they did not want him as chief minister.
Bhupendra Hooda will be Haryana CM
Son of veteran parliamentarian Ranbir Singh, Hooda was born a month after India's Independence on September 15, 1947 in Sanghi, Kiloi assembly segment, in Rohtak district.
He has a son and a daughter.
An agriculturist and an advocate by profession, he has BA and LLB degrees from Punjab University, Chandigarh, and Delhi University.
Hooda was Killoi block Congress Committee president from 1972-77, Haryana Pradesh Youth Congress senior vice-president from 1980 to 1982 and Panchayat Samiti and Panchayat Parishad chairman from 1983-1987.
He first entered the Lok Sabha in 1991 defeating former Deputy Prime Minister Devi Lal.
The following year he was made an All India Congress Committee member.
Hooda was also Haryana Congress Parliamentary Group convenor from 1994-96.
His second stint in the Lok Sabha was in 1996, again beating Devi Lal and became Haryana Pradesh Congress Committee president in 1997. In 1998, he made his third entry, pipping Devi Lal by 383 votes.
Hooda made his fourth entry into the Lok Sabha last year after which he resigned from the state assembly to which he was elected in 1996.
He has held posts in departments like education and agriculture. His interests range from social service to reading to sports.
Hooda is also a widely travelled man.