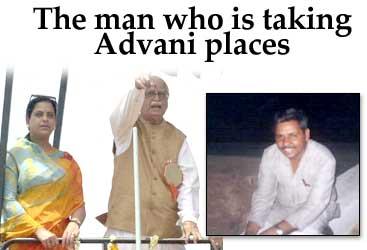 Quick trivia question. Who is the driver of the rath Deputy Prime Minister L K Advani is using for his Bharat Uday Yatra?

Complete coverage of Advani's yatra

Answer: Harish Dagur (right) is his name and he is 37 years old.
What is interesting is that he is not a professional driver.

When Dagur is not driving Advani's bus through bad roads, traffic jams and crowded streets he fulfils his duty as a Bharatiya Janata Party corporator in the Indore Municipal Corporation.

But for the last 10 days he has been one of the deputy prime minister's companions.
rediff.com caught up with the sarathi (charioteer) of Advani's rath for an exclusive chat.

Before he became a corporator, Dagur was well known in his native Indore as the owner of Vande Mataram, a travel and transport agency.
"It is all for a great cause. Driving Advaniji is bliss for me," says Dagur, despite the long hours at the wheel.
Within the party, there was intense competition to drive Advani. Asked how he bagged the prize assignment, Dagur says, "Experience and party loyalty. I am a BJP worker. I am a good driver."

Recounting how he became Advani's sarathi, Dagur said he got a call from party general secretary Pramod Mahajan. "Mahajanji told me 'you will drive Advaniji,'" Dagur says.


"I was thrilled when the BJP leadership invited me to come to Delhi," says Dagur, who began his career as a taxi driver.
Today he informs us proudly that he owns one of the best-known transport agencies in Indore.

"I have been an ardent BJP worker all these years," he is quick to point out. "I have dedicated my life for the party."
It was this relentless commitment to driving and the party that led Advani to choose Dagur as his sarathi during his Swarna Jayanti Yatra in 1997.

"It was a great experience. I never expected Advaniji would select me in 1997. I did my job to perfection. That may be the reason why I was called once again to do this job," he says.
Dagur considers beginning the long, arduous road trip from Kanyakumari as another blessing. "It is for the first time that I am in Kanyakumari. This is the right place to start Advaniji's yatra."
In Kanyakumari, Dagur checked the roadworthiness of the Swaraj Mazda luxury bus that Advani is travelling in. "The bus is a great driving machine," he says.
"It is a beautiful drive," he says, as he drove along southern roads carrying the deputy prime minister.
But on the way from Palakkad in Kerala to Coimbatore in Tamil Nadu, 'the roadworthy' bus broke down.

Dagur explains it was a minor complaint. "We corrected it fast," he says. Advani was forced to travel a few dozen kilometres in a car, instead of the bus.
Asked what speed Advani likes the bus to be driven, the reply is prompt. "Around 80 kilometres (per hour)."
Does Advani get bored or tired sitting in the bus? "No, Advaniji is always busy. There are crowds on the roads, and he waves to everyone. He has incredible energy at this age."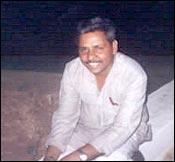 "He never feels tired. Even when he is tired, Advaniji does not care much. He just wants to ensure that he never misses his schedule," Dagur says.
What does Advani like most about Dagur's driving? "That I never take the bus into gutters. That I am a smooth driver," he says with a smile.
And what does Advani dislike about his driving? "Nothing to my knowledge. He has always remained calm. I have never seen him angry during the journey."
As he takes Advani across the breadth and length of India, Dagur says he too never feels tired. "Because when such a great leader is in the bus, how can I be tired? I try to be fresh always because my leader is always fresh."
Dagur is not the lone driver for the Bharat Uday Yatra. There are two deputy drivers -- Dalvir and Mahendra Sharma -- who help Dagur on the yatra. Dalvir hails from Rajasthan and Sharma from Chhattisgarh.
"It is the first time that I am driving Advaniji. It is so exciting to be part of his journey," says Sharma.
Quite obviously, there is a scramble to steer Advani around the country. "Who in India does not want to drive Advaniji?" asks Dagur.