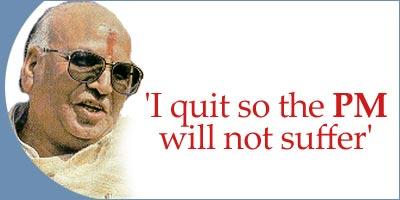 In the politically critical state of Uttar Pradesh, the man still in the eye of a storm is Lalji Tandon, senior Bharatiya Janata Party leader and a close aide of Prime Minister Atal Bihari Vajpayee.

On April 12, during an event to celebrate Tandon's birthday, a saree distribution ceremony for poor women in Lucknow led to a stampede, in which 21 women and one child were killed.

The BJP leadership was furious with Tandon for spoiling the image of the prime minister who represents Lucknow and was filing the nomination in the next couple of days. To make matters worse, the Election Commission issued a showcause notice to the BJP and the police had filed a first information report against Tandon. To avoid further embarrassment to the party and his friend, Tandon quit as the prime minister's election manager.

Tandon spoke to Deputy Managing Editor George Iype about the tragedy and its aftermath.

You have been close to Prime Minister Vajpayee and have been managing his election campaign all these years. Are you upset at being left out of the picture all of a sudden?

I do not feel I have been sidelined or left out from the campaign of Vajpayeeji. I still look after many of his poll-related programmes.

You quit as convener of Mr Vajpayee's election management committee. Is it because you have been told to quit as his campaign manager by the BJP leadership?
No. The BJP leadership never asked me to quit. I have on my own withdrawn as convener of the campaign committee. I decided to quit because I did not want the prime minister to suffer because of the tragedy. But I will continue to actively campaign for Vajpayeeji here and for the BJP candidates across Uttar Pradesh.

Did you consult Mr Vajpayee before quitting as his campaign convener?

Yes, I consulted him. He is a great friend and a great leader. He understands me. That is enough for me.

The BJP leadership is upset that you organised such an event during election time.

I did not personally organise the celebrations. My supporters organise it every year and this has always been to help the poor.

Were you not aware that such an event and the distribution of free saris to the people was against the Election's Commission's Model Code of Conduct?

This programme had nothing to do with politics or elections. It was strictly a private programme. It was not against the Model Code of Conduct because the BJP did not organise it.

But the Election Commission has ruled that it was against the Model Code of Conduct.

We are preparing to reply to the Election Commission's showcause notice. We will prove that it was not against election rules.

The Opposition led by the Congress have made the sari tragedy a major election issue in Uttar Pradesh.

That shows how the Congress party is exploiting a human tragedy into a political issue. It also exposes the fact that the Congress does not have any other issues to fight this election.

Will the sari tragedy affect the BJP's poll prospects in Uttar Pradesh?

How can it affect? People treat this as a tragedy. The BJP's seats will not come down because of this.

On one hand the BJP says India is shining. But the distribution of cheap saris to poor women shows the poverty in states like Uttar Pradesh.

When we say India is shining we do not mean that all the problems in the country have been solved. There are lots of issues and problems that are being successfully tackled by the Vajpayee government. Poverty is one among them.

Image: Rahil Shaikh