His Highness Nawab Mohammed Abdul Ali Azim Jah, the Prince of Arcot, is the only royal in India who was not affected by the abolition of privy purses by Indira Gandhi in 1969. In the Order of Precedence, he enjoys the rank of cabinet minister of the state of Tamil Nadu.
The nawab hails from a family that traces its lineage back to the second caliph, Hazrat Omar Bib-Khattab. The title, Prince of Arcot, was conferred on his ancestor by the British government in 1870 after the post of Nawab of Carnatic was abolished.
The present Prince of Arcot was sheriff of Madras (as it was known at the time) for two terms and has been involved with many social, cultural, and religious institutions. He is the founder secretary general of Harmony India, an organisation that works to promote communal amity and national integration.
Last fortnight, the prince caused a flutter by issuing a statement that Muslims in India should not seek backward class status; instead, they should help themselves through education. In an interview with Contributing Special Correspondent Shobha Warrier, he discussed the various issues confronting Muslims in India today. 
The second of a three-part series of election interviews with Muslim leaders in India:
Part I: Syed Bukhari: 'Muslims must cast away the crutches of political parties'
You issued a statement that Muslims in India should not clamour for backward class status, and instead should educate themselves and come up in life. When every other community in India is asking for backward class status, you sounded different. Why did you issue such a statement?
Muslims are the second largest majority in the country. Muslims are not minorities. Even in the world, Muslims are the second largest [religious community]. Then why should we ask for backward status, or the most backward label? We should develop our own potentialities. We should have education and we should come up in life like any Hindu or Christian boy or girl. We should uplift ourselves in the eyes of people. We should not expect to get the tag of minority. This was my intention.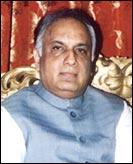 How has the Muslim community and Muslim leaders reacted to your statement?
Till now, none of the Muslim leaders has reacted to my statement, but many people have called me and congratulated me. What I feel is, our Muslim leaders are not allowing the community to come up because they are afraid they will be sidelined. That is the reason they are not helping our community to come up through education.
I feel we should not depend on the government because Muslims are neglecting their duties. And education is a key tool for developing a community.
I want to tell you, no Indian Muslim has betrayed the country at any time. Muslims are happier in India than in our neighbouring countries. Muslims were made Presidents of India, besides vice-presidents, justices, governors, chief ministers, Union ministers, state ministers, Cabinet secretaries, every now and then. Even in defence, there are many Muslims who are holding high ranks and positions.
Only vested interests have tried to label Muslims spies. Some say we should leave this country and go to Pakistan. It is sheer nonsense. India belongs to everybody. Muslims remained in India because we wanted to be here.
Do you feel that from the time India won independence, Muslims have been used by political parties as vote banks? Is that why there is tension between Hindus and Muslims now?
Perhaps that could be a reason. India's Constitution provides equal rights to all citizens. India does not belong to one religion or one community. It is part of Islam to be loyal and honest to the nation. Religious leaders should spell out and educate the people by enlightening them to follow the true and correct religion. This 'I am a Hindu' and 'I am a Muslim' attitude is ruining the whole nation.
Who is responsible for creating such an attitude?
Politicians, I would say. If politicians do not interfere in religion, there will be smooth sailing. Even about Ayodhya, the matter is in court, I should not open my mouth. But if it is left to the people, I think they can solve it. Politicians want to take advantage of the issue, especially at election time, which I don't think is correct. Hindus and Muslims should sit together and come to a decision.
Who should be talking? The people who live in Ayodhya, or the people of India at large?
I think the people of the country as a whole. They should come forward and talk.
Do religious leaders have a place in these talks? Should they be talking or should ordinary people talk?
The leading people of that particular state or the country, who are involved in the welfare of the people, should decide. Not the politicians. If politicians come into the picture, the whole thing gets stuck. Nothing moves. From 1992 onwards, what has happened? Nothing. Now the matter is in court. We have to obey the judgment when it comes.
Even the BJP says the dispute should be amicably settled between the Hindus and the Muslims. I think it is a good idea of the BJP that they insist on both communities meeting and solving the problem.
Muslims had liberal leaders in the beginning. Do you feel they have been replaced by hardcore fundamentalists, not only in India but all over the world?
In any religion, there should not be extremists; there should not be fundamentalists. We should not become fanatics. If I am a Muslim, let me be a better Muslim. If you are a Hindu, you be a better Hindu. If you are a Christian, you be a better Christian. If all the communities in India can work together, India can be one of the leading countries in the world.
In what way are you conveying this to your community?
Whenever I go to functions and public meetings, I speak on these issues. I educate people on communal harmony, secularism, national unity, against dowry, etc. Religious leaders should teach against giving and accepting dowry, which is totally un-Islamic. People go out of the way and give importance to practices, traditions, conventions, etc rather than true and correct religion. I don't think that's correct.
Do you feel the BJP is a communal party and under the BJP Muslims in India feel threatened?
Even today, that feeling is there between Muslims and the BJP, that the BJP is against Muslims. Personally speaking I don't think the BJP is against Muslims. It's only politics. If the BJP removes that from the hearts of Muslims that they are enemies of Muslims, I think it can lead the country for years and years to come.
I admire that political party, the BJP, though I am not a political person, because of their unity. If they take even the Muslims also with them, and sail together, I think that will be the best.
They should not talk about disturbing other mosques. Some vested interests are talking about some 3,000 mosques that should be brought down. That's all wrong. All this is a sheer waste of time, energy and money.
Do you feel the BJP has created a division between the Hindus and Muslims?
Not the BJP, I can say, there are some vested interests who are trying to divide people.
What's your message to Muslims in India?
That they should first have education, and they should join politics. By politics, I mean the mainstream. We don't have Muslim leaders in the country who can take us in the right direction.
Have you ever thought of joining any political party or becoming a politician?
From childhood I have been interested in politics, but because of pressure from my family I am keeping away from it. Otherwise, I don't like to just call myself the Prince of Arcot, but do some service to society. I do service in the community in a small way.
When Rajiv Gandhi was alive, he invited me to join the Congress. I was the sheriff of Madras then. One day, the papers wrote that I had joined the Congress. The very next day I denied it. When Rajiv Gandhi met me, he said, even before becoming a politician you have become a real politician! But I have not given a thought to joining any political party now.
Photographs: Sreeram Selvaraj | Image: Uday Kuckian