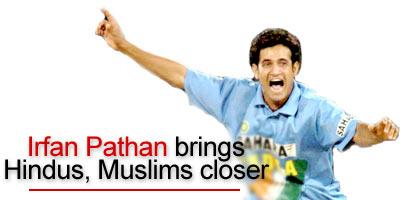 Irfan Pathan has succeeded in doing what seemed almost impossible two years ago. He has united the Hindus and Muslims of Vadodara in a joyous celebration. And the sentiment runs across much of Gujarat too.
| | |
| --- | --- |
| | Also Read |
| | |
Vadodara is the city of the horrible Best Bakery case that has now been shifted out of Gujarat. It is a city where Hindu-Muslim riots are always a possibility. But for now, all the residents here are brimming with pride that it was one of their own who played a key role in ensuring a thumping victory over Pakistan in the one-day and Test series.
Mohammad Hanif, who drives a taxi, recalls how a few years ago, some 'fundamentalist' Muslims would celebrate Pakistan's victory in the Muslim-dominated mohallas of Vadodara. "Then, every time an Indian wicket fell, it was hailed. Now, every time a Pakistani wicket falls, it is being celebrated joyously. And best of all, Hindus all around are celebrating equally so," he says with pride and joy.

In fact, starting from the 1980s and through the 1990s, and India-Pakistan matches meant more worries for the police. Often, trouble would break out in areas euphemistically termed 'sensitive.' The trouble mostly would start after an India-Pakistan match.
Right-wing political parties often took advantage of the situation, tarnishing the entire Muslim community as 'traitors.' But suddenly, all that appears a distant memory. Now, the talk is of how Irfan Pathan ran through the Pakistani batting, and how Javed Miandad, who boasted that Pakistan had bowlers like Pathan in every nook and corner, was made to shut up. "How dare he insult us?" asks Hanif.
Pathan, back home from the tour, is finding it difficult to finish his lunch. Visitors are constantly streaming in to meet him at his house in the Jumma Masjid in Mandvi, an area in the older, congested part of the city better known for housing the headquarters of the Bank of Baroda. They want his autograph or just to see him; reporters have been troubling him non-stop, asking him the same question on how it feels to be back.
Pathan tells rediff.com shyly he is overwhelmed by the response. "People are treating me with so much respect and have been coming from all across the city to meet me, it feels really good."
Pathan does not see himself as an ambassador of Hindu-Muslim goodwill, nor is he willing to even talk of the subject. In fact, it is difficult to discuss Hindu-Muslim relations in Gujarat; it is treated as a subject best forgotten. But Pathan points out that right now, he is being greeted by one and all in the city.
Mehul Likhite, a cricket aficionado, rode down from the other end of the city to get his autograph. "He is our hero. The fact that a boy from Baroda played a major role in defeating Pakistan will never be forgotten," he said.
Today Pathan has made the grand, 100-year-old Jumma Masjid Baroda's best known address.

Unknown to many, this masjid is famous for housing an old Koran that is six feet by four-and-a-half feet. The Koran is so large that it has to be read standing, and its pages turned by two men using a huge stick under the page. Incidentally, Pathan's father is the caretaker of his awesome Koran, written by Mohammad Ghausuddin many centuries ago.
Across the Masjid is a small jewellery shop run by Divyesh Choksi, who said he used to play cricket with Pathan when they were children. "I played a little, but my younger brother, who is the same age, and Pathan used to play non-stop. And today, we are so overwhelmed that the small games we played has made him the hero of India," said Choksi.
Choksi, whose family till a couple of years ago lived in a lane literally a stone's throw from the Jumma Masjid, admits that whenever Vadodara had riots, this was one of the first areas to be placed under curfew. "This is a commercial area with both Hindus and Muslims owning shops here, so we always interact with each other and that always ensures that we keep our friendship," he said.
A Muslim shopkeeper seconded that sentiment. "Both Hindus and Muslims are my customers, so how can we ever think negatively of another community," he said.
Diwakar Shastri, who used to work for a large industrial house and now runs a business, agrees that Pathan's role in uniting the Hindus and Muslims into a single celebration is a massive achievement.
If in April 2002, you read that some Hindus tried to enter the Jumma Masjid and police stopped them, you had every reason to fear the worst.
In April 2004, when you read the same news, you had reason to rejoice: the Hindus were seeking to congratulate Pathan's family and were being stopped simply because the small house could not take so many visitors.

Image: Rahil Shaikh