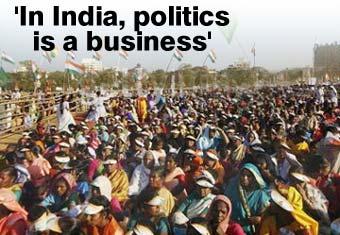 Dorab R Sopariwala is one of the country's leading election analysts, someone who has watched India's electoral process for over 20 years.
Educated at the London School of Economics and the Imperial College of Science & Technology in London, Sopariwala specialises in India's electoral system and is a consultant with NDTV.
In a detailed interview with Senior Associate Editor Archana Masih, he surveyed the coming general election in a four-part interview.
A part of this interview first appeared in the April 9 issue of India Abroad, the newspaper for the Indian-American community owned by rediff.com
Part I: 'I don't think the NDA will get 400 seats' 
Part II: 'BJP must guard against losing cricket match'
Does the run-up to this election remind you of any other election?
Not really -- it's taking so long. The first three general elections took several months to complete but that's probably because some seat in Himachal Pradesh or J&K couldn't be reached for two to three months because of snow. From 1967 to 1989, elections rarely took more than a couple of weeks to complete. Since then, elections are taking longer and longer. Whenever an election occurs, the business of the country gets held up.
Some elections are fought in a mood of depression. The 1977 election was fought in a mood of euphoria because that's when everyone got together and kicked Mrs Gandhi out. The 1984 election was in a somber mood because Mrs Gandhi was assassinated.
As the reach television has increased, elections tend to be more dominated by the media. Today, there are more than 80 million homes with television and lots of news channels. In 1999, there were probably 30 to 40 million television households and few news channels. So, more people are participating more actively in the process. They can see the prime minister, see what he looks like. So each election is different.
After the Garibi Hatao slogan, do you think the India Shining message has overwhelmed other factors?
Advertising can only help to remind you of something you feel. If you haven't got a job, you aren't shining. If you've got a job, you may feel even better. It's just a reminder to say -- 'India is doing well, so don't forget us -- the guys who brought you India Shining and go to the ballot box and vote for us.' That's what they are trying to do.
Will the Rahul Gandhi gambit work?
Depends on how good a politician he turns out to be. The Congress is trying to spread the 'Feel Gandhi' factor in that part of UP. What is the objective of this? To get more seats in UP.
UP is a state they [Congress] have been very weak during the past decade or so. I do not know whether he can convert his charisma into numbers. He could be great or he could be a complete disaster. So we don't know -- let's wait and watch.
The intention of the Congress in putting him out is probably the first signal to the party that they have another leader. If Mrs G decides to give it up, she is positioning him as another leader.
Supposing he [Rahul] were to wipe out his opponents, that would improve his chances with the Congress because the party is looking for a leader. They've got Mrs Gandhi but obviously, she doesn't seem to be a match for Mr Vajpayee.
It must be a handicap among some people that she is a foreigner. But it is also to the advantage of other people that she is the daughter-in-law of Mrs Indira Gandhi. One doesn't know where the balance is struck. There are pros and cons and the Congress party assumes that the pros are higher than the cons.
Isn't dynastic politics getting to distasteful, especially in the Congress?
It is wrong to assume that the Congress is the only party practicing dynastic politics. If you exclude the Communists, all the other parties are doing this.
To some extent, we are a feudal people. We like to look up to our leaders. Of course, there are the Kennedys too. I would reckon the CPI, CPI-M are the parties where there is very little of it.
Mulayam Singh Yadav's son is in Parliament.
Vasundhara Raje -- she was in Parliament, her mother was in Parliament, her brother was in Parliament, her sister is in the Vidhan Sabha, her son's got the BJP ticket for Jhalawar and her nephew is standing in Guna. That's some dynasty!
The first CM of Madhya Bharat (now Madhya Pradesh) was Ravi Shankar Shukla -- his two sons, V C Shukla, who fought his first election for Parliament in 1957, the same year as Mr Vajpayee, and is still around; so is S C Shukla, who has been the chief minister of Madhya Pradesh three times.
In a way, Jayalalithaa is also a political heir of M G Ramachandran.
Similarly, M K Stalin. Devi Lal's son, Om Parkash Chautala. In Haryana, Parkash Singh Badal's son Sukhbir. And Bal Thackeray has anointed his son Uddhav as his political heir.
Kirti Azad is the son of Bhagwat Jha Azad, the former CM of Bihar.
Rabri Devi, do you think she's there because of her great skills as a political operator?
And what did Naveen Patnaik do before he became CM of Orissa? He was the son of Biju Patnaik.
Don't forget the Abdullahs – who have been around power in J&K for three generations.
Ajit Pawar's only claim to power is that he's the nephew of Sharad Pawar.
And Ajit Singh lords over Western UP's Jat belt courtesy his father, Chaudhury Charan Singh.
Shiela Dixit's son is likely to stand from East Delhi; what's his claim to fame? And Shiela Dixit herself is the daughter-in-law of Uma Shankar Dixit.
The BJP's K C Pant is the son of the first chief minister of UP, Govind Ballabh Pant.
And 'CEO Naidu' is the son-in-law of the charismatic NTR.
In most states there are constituencies that have been handed down for generations. It's only leaders who don't have sons who don't promote them. Everybody else does. As the late Devi Lal once remarked: 'If I don't promote my own sons, whose sons should I promote -- someone else's?' It is not a matter of surprise to me.
This guy has the contacts; you and I won't get tickets. No one will even consider us but he's half way there. I think it's an Indian feature. In India, politics, for the most part, is a business -- not a profession. Who do you leave your business to? Your son or daughter -- right? It is a way to make money.
It does seem rather odd in an India which is headed on the way to meritocracy?
Meritocracy yes, but this is power. This is the real stuff. Meritocracy is okay for business and whatever. Today if you are in IAS or IIM, it is about meritocracy but politics is not for the IIM types.
There is a place for meritocracy and there is a place for politics.
Is it possible for the Congress to rebound like the BJP did after its 2-seat poor show in '84?
You know what the BJP did, but you don't have enough things like that around. And the scars of that live in the nation.
One thing that the BJP has in its favour is the second line of leadership. The Congress also has a second line but it has kept a low profile. When you have a very towering leader like Nehru, he's like a Banyan tree. Similarly that's the current state of the Congress and the top person is not a Banyan tree. Still she's seems to be keeping others from coming up... it may not be intentional -- but it's there.
Let us assume she says today that Dr Manmohan Singh will be PM if the Congress and its allies win the election. Won't the BJP say she's running scared? Would it cost her votes or would it gain her votes? In rural areas do they know of Dr Singh? It's very complicated. No one knows the answer.
How long will coalition politics remain a feature of Indian politics?
Very long. Regional parties are getting stronger and BJP is quite happy to be the junior partner in many states -- Maharashtra, Andhra Pradesh, Tamil Nadu, Orissa, Bengal, Bihar, Punjab.
There was a time in the old days when leaders like Jayalalithaa, Karunanidhi would strike a deal with the Congress, saying you run at the Centre, I'll run in the state. Now the regional parties want to fight both elections and want power at both the Centre and in the state.
The Congress is getting weaker and the BJP is trying to push its strength but its coalition partners are keeping it down. I won't be surprised if, over a period of time, the BJP might become a coalition partner with Chandrababu Naidu in the state government of Andhra Pradesh. They could do that with Jayalalithaa. If they were to come to power with Samata in Bihar, they would do that.
The Congress has enjoyed a position of running various states by itself, so it's very reluctant to share power. The BJP has not had power in many states, so it is quite happy to get a small piece of the action. It's a different mindset.
Photograph: SEBASTIAN D'SOUZA/AFP/Getty Images
Image: Dominic Xavier
Part IV: 'Laloo a great politician'