We launch a new feature where we post images of world sportsmen contributed by readers.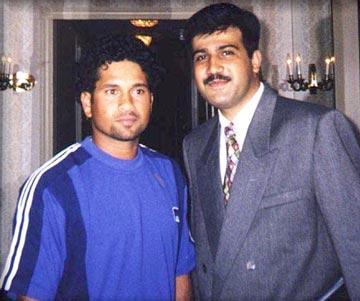 If you encounter/meet/see cricketers or sports personalities and photograph them, please scan the photographs and mail the pictures to us. We will feature the best images right here on Rediff Cricket or Rediff Sports.
Reader Sandip Dagli, who sent us this photograph, wrote: 'This is my dream come true!! It happened way back in 1998 when the Indian team visited Toronto for the annual Sahara Cup.'
'I met Sachin at the team hotel in downtown Toronto and spent 10 minutes chatting about the game the previous day. The master was absolutely friendly and it was my dream come true!'
Concluded Sandip: 'I have pictures with other cricketers like Rahul Dravid etc... not sure if you are interested to post photos so old. :) But I do wish you post this one as it's with the God ... SrT'
So rush those photographs to us!
Earlier:
Vikram meets Shane | When Rajath met Aravinda