Inspired by our
colleagues on the Movies desk
, we launch a new feature where we will post images contributed by readers.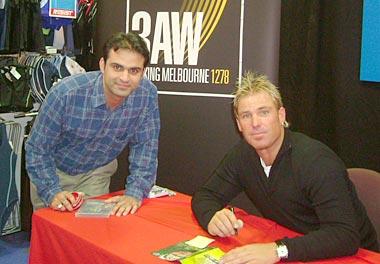 If you encounter/meet/see cricket or sports personalities and photograph them, please scan the photographs and mail the pictures to us. We will feature the best images right here on Rediff Cricket or Rediff Sports.
Reader Vikram Chaudhry, who lives in Melbourne, has sent us his picture with cricket legend Shane Warne.
"I met him in Melbourne in a sports store where he was on a promotional visit," writes Vikram. "I bought his DVD Shane Warne The King of Spin and got it autographed by him." Thanks Vikram. So rush those photographs to us!