Cricket Australia said on Tuesday that it will investigate the behaviour of the Australian team at the presentation ceremony after winning the ICC Champions Trophy final in Mumbai.
The world champions nudged and pushed Board of Control for Cricket in India president Sharad Pawar during the ceremony.
Australian captain Ricky Ponting first pointed his finger at Pawar, directing him to handover the winners trophy and then Damien Martyn nudged Pawar down the dais.
Pawar, who is also the Union Agriculture Minister, however played down the incident.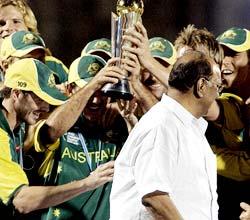 "It was a small thing, a stupid thing. I don't want to react," he said.
Many former and present cricketers including Sachin Tendulkar have come down heavily on the Australian team for their rude behaviour.
"I was not watching the proceedings but from what I heard, it was unpleasant and uncalled for. Firstly, it should never have happened. It's important to show respect to a person who is so dear to the cricketers and is involved with cricket. Such incidents should be avoided," Tendulkar said on Monday.
What is your view on the Australian team's behaviour? Tell us!