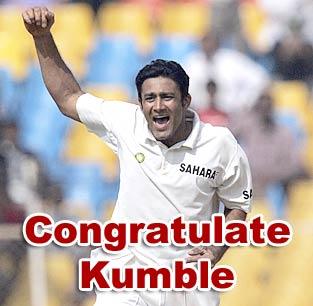 Anil Kumble has given more to Indian cricket than Indian cricket has ever given him. Whatever the situation, the leg-spinner has come out fighting; sometimes emerging a hero, the others taking a lesson from defeat.
If Kumble is among India's biggest match-winners, it is because he has tried to stretch convention the farthest, defy destiny the most.
A leg-spinner, who hardly turns the ball and bowls as fast as the medium pacers, his is the most glittering yet non-glamorous journey to the top.
On Saturday, the Karnataka spinner conquered another peak by becoming only the fifth bowler in Test cricket, and the first from India, to take 500 wickets. He wrapped the England first innings in Mohali, finishing with 5 wickets for 76 runs.
Join in the celebration. Congratulate Kumble!