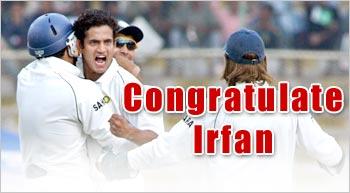 Irfan Pathan made history on Sunday when he became the first bowler to claim a hat-trick in the first over of a Test.
The left-armer had received a lot of flak after some ineffective bowling in the first two Tests, but he staged an explosive comeback with a superb spell in the first over of the third Test against Pakistan in Karachi.
He claimed the wickets of Salman Butt, Younis Khan and Mohammad Yousuf with the last three deliveries of the over to reduce Pakistan to 0-3 and become only the second Indian - and 36th bowler overall -- to achieve a Test hat-trick.
Harbhajan Singh is the other Indian to achieve the feat.
Congratulate the 21-year-old Baroda paceman on his remarkable feat!