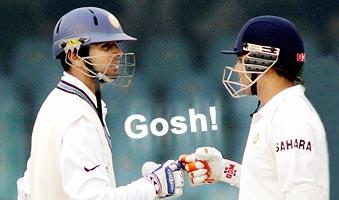 It took a makeshift opener and a former middle order batsman to sew together one of the most incredible opening partnershpis in the history of cricket, in the process coming within spitting distance of breaking the world record, which also stands in India's name.
And it is only fitting.
It is a reward for the selfless leadership of Rahul Dravid -- who, in coach Greg Chappell's words, chose to 'bite the bullet' by opening against Shoaib Akhtar and Company in the first Test match at Lahore.
It is only a salute to the swashbuckling Virender Sehwag -- who has curbed his hit-everything-to-the-Himalayas natural game but has not reined in any of his lethal strokeplay.
Should Rahul Dravid and Virender Sehwag, who have put to sword the awesome Pakistani bowling attack -- continue to open India's innings? Tell us what you think, right here, right now!